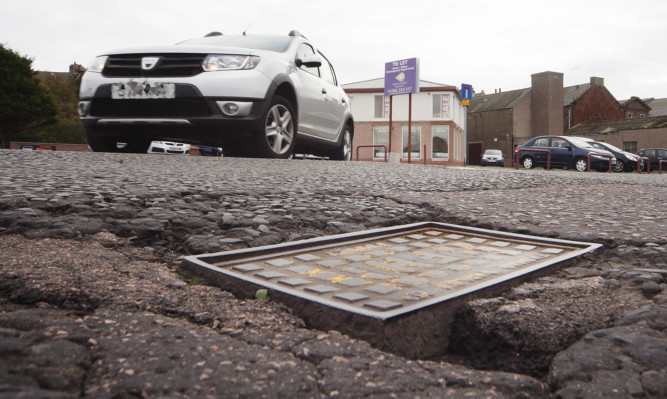 Angus claims to be driving towards victory in the council's war on potholes.
New data has shown the authority is edging closer to hitting ambitious roads maintenance targets to repair the wheel-bashing craters in the county's carriageways and there is confidence a review of how potholes are tackled will lead to a smoother winter for the area's drivers.
Potholes cost the council huge sums to repair annually, including a compensation bill to pay drivers who successfully claim for damage caused to their vehicles.
The issue's importance was highlighted by the problem being included as part of a service review undertaken by the area's scrutiny and audit committee and although it has shown there is still a bit to go before reaching maintenance targets, elected members and officials have said Angus drivers are facing a less bumpy ride that some of their neighbours.
The council sets a 1.5% road network resurface target each year, and worked on 1.15% in 2014/15, up from 1.01% in the previous year.
Its surface dressing target, to seal cracks and prolong the life of a road surface, was at 2.22% where the council's target was 2.5% last year.
Scrutiny and audit convener, Councillor Bob Spink said: "The roads issue is probably one of the more visible and the standard of repair seems to be considerably better than it was before.
"There are larger patches of repair which are likely to last longer and that is good news."
Arbroath councillor David Fairweather said: "It was a very comprehensive review; contractors like Geddes and Tayside Contracts were invited along with the AA and police and recommendations put forward."
"The pothole repairs since the recommendations came through were slow because they are more complex.
"But I think the people of Angus will be much impressed."
Councillor Bob Myles added: "The public seem to recognise that we are improving our roads maintenance programme and I have had quite a number of positive comments, which is welcome.
"I'm very pleased to see the cost of our maintenance is well down compared to other council areas we must be doing something right and at reasonable cost."
Strategic director Alan McKeown said: "Our roads still are comparable and better than others, in particular our rural roads.
"I drove from Forfar to Braemar and there were no potholes on a road that was very high.
"When we got to a neighbouring authority, there were potholes almost at the junction."
Photo by Angus Pictures