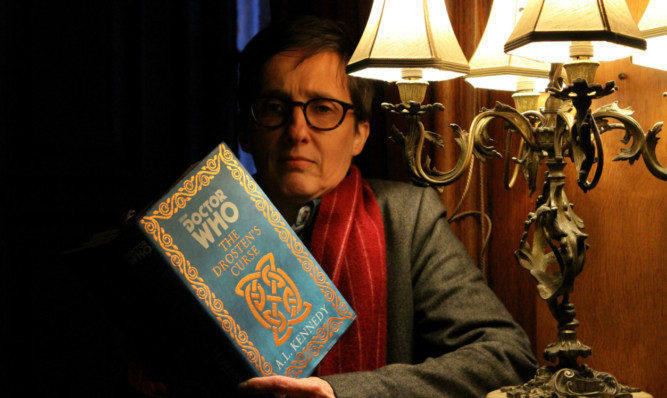 Dundee author AL Kennedy has launched the new BBC Doctor Who novel in the Angus town where it was set.
Doctor Who: The Drosten's Curse plays out in 1978 Arbroath with scenes also taking place at the historic St Vigeans site to the north of the town.
Hospitalfield House was the setting for the launch which discussed the latest addition to the BBC Books series of Doctor Who novels.
The evening, which was hosted by Peggy Hughes who manages Literary Dundee, gave AL Kennedy a chance to speak about her writing process.
A huge Doctor Who fan, she contributed a short story to the Doctor Who: Time Trips collection last year, and was inspired to develop it into a full length novel.
AL Kennedy – who previously lived in Arbroath and wanted her stories to be set in a small town opted to style her character after the contemporaneous version played by Tom Baker.
In the book, something distinctly odd is going on in Arbroath.
Golfers are being dragged down into the bunkers at the Fetch Brothers' Golf Spa Hotel, never to be seen again.
People in the surrounding area suddenly know what others are thinking, without anyone saying a word.
A Courier reporter is also included in the story of spaceships and smokies as the weird and wonderful mystery unfolds.
AL Kennedy, who was born in Dundee, said: "We all have areas of culture that matter to us, that make us feel more like ourselves.
"For some, it's football; for others, paintings or books.
"For me, there were the adolescent hours I spent wondering how the hell I could get away to London, to see theatre, to walk down Drury Lane.
"There has been the music that rocked my soul, and the movies that allowed me to understand myself in three dimensions.
"But most of all, there has been Doctor Who."
The author's 1993 debut Looking for the Possible Dance made her name as she was listed among Granta's 20 best of young British novelists.
The author of 15 books, she has won a number of other awards, including the Costa Book of the Year for her 2007 novel Day.