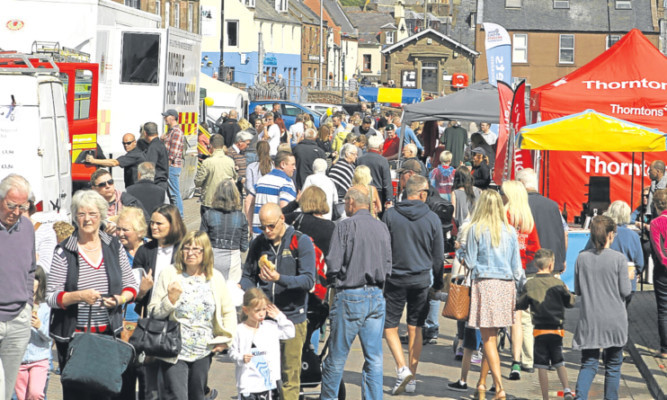 Masterchef champion Jamie Scott delighted his home crowd by demonstrating a dish using Arbroath smokies at the town's annual Sea Fest.
Tens of thousands of people flocked to the two-day event at Arbroath Harbour.
Jamie revealed the secrets behind his smokies bouillabaisse, which was part of his winning menu in the BBC competition. He also created a lobster dish.
He said: "I've had a lot of requests to demonstrate the smokies dish at events over the summer but I thought it would be appropriate to show it for the first time in Arbroath.
"I also wanted to show people how to cook a lobster properly a lot of the time it's bright red and overcooked and I don't think we appreciate lobster enough.
"I've always been proud of where I'm from and I wanted to give a little bit back to Sea Fest.
"I first demonstrated here eight years ago when I was still working at my mum and dad's pub and it's great to be back."
There was a huge variety of stalls and carnival rides at the event as well as live music throughout the weekend, including a performance by Arbroath Instrumental Band.
Local dance groups Limelight and Showcase the Street also showed off their skills.
Special events including a demonstration of a lifeboat rescue, a raft race and a pie eating competition.
Visitors could also see inside historic fishing boats, including the Reaper, which was crewed by members of the Scottish Fisheries Museum, who demonstrated traditional skills like net mending.
One of the most popular attractions was a strongman and strongwoman competition held across the two days and organised by the Warehouse Gym in Arbroath.
There were also children's craft workshops and cookery classes as well as a sandcastle competition.
Sea Fest Committee secretary Lynn Cameron said: "It's gone very well and everyone seems to have a smile on their face.
"Attendance is definitely up on last year, when we had around 20,000.
"We've been helped by the good weather."