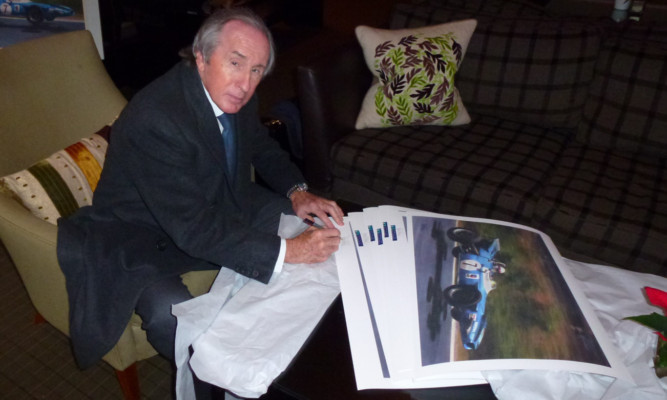 Flying Scot Sir Jackie Stewart has endorsed an internationally renowned Angus artist's image of the motorsport maestro at work behind the wheel.
A painting of an airborne Stewart in his Matra MS80 at the 1969 German Grand Prix, the result of a unique commission for Kirriemuir's Jonathan Mitchell, is set to raise considerable financial support and awareness for Dyslexia Scotland, of which the triple Formula One world champion is president.
Mr Mitchell's original is to be auctioned for the charity later this year, but a run of limited edition prints signed by artist and subject has also been produced and it is expected they will be quickly snapped up by motorsport enthusiasts as well as fans of the artist, whose work is popular across the globe.
One of the prints is the centrepiece of a new exhibition by Mr Mitchell in the Forfar office of Bowmans solicitors, and the artist has been delighted by the enthusiastic initial response to the piece.
"It has been a terrific project and a great image to work with," Mr Mitchell said.
"For a few years I have had a growing interest in Formula One and last year I was fortunate to meet Sir Jackie at Silverstone, so things developed from there.
"Although I have not done a racing car before, from an artist's point of view the subject matter is irrelevant. It is about light and motion, and how to depict that.
"Hopefully there will be a motor sport audience for the picture as well as those who already know my work.
"I like to do things for charity when I can and hopefully this will be successful in raising money and awareness for Dyslexia Scotland," he added.
The artist also encountered the remarkable attention to detail which helped set the Scot apart on the race tracks of the world.
"As I was working through the project, Sir Jackie pointed out that although the image I was working from had him wearing a full-face crash helmet, he remembered that was in practice and he actually wore an open face one for the race, so we changed that for the finished painting."
Elizabeth McGillivray, senior partner at Bowmans, said: "Our firm has supported the arts throughout its 139 years of practice. To have this wonderful opportunity to raise awareness of Jackie Stewart's patronage of Dyslexia Scotland is just an added bonus I do hope he pops in if he's ever nearby!
"For those in the know, Jonathan has an international following. His Scottish landscapes are renowned and are collected across the globe.
"Working in oil, his use of light is technically brilliant and evokes the quintessential tone of the greatest Scottish masters."
Dyslexia Scotland chief executive Cathy Magee said: "We are absolutely delighted that Jonathan has donated this wonderful painting in what is a fantastic project.
"As our president, Sir Jackie is incredibly supportive of Dyslexia Scotland and hugely influential in terms of raising awareness.
"There has already been a lot of enthusiasm for the painting and this project will take the work of Dyslexia Scotland into the motor racing world.
"There are a lot of stereotypes surrounding dyslexia and the more people willing to speak out about it and raise awareness, the better."
The Forfar exhibition is open to the public until March 29 and details of the limited edition print are available through the Dyslexia Scotland website.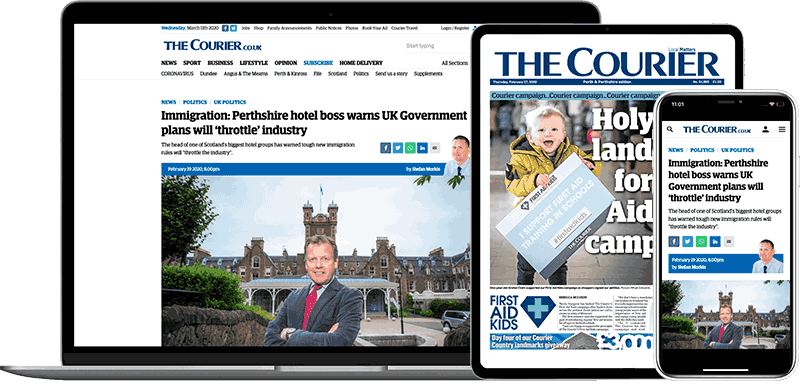 Help support quality local journalism … become a digital subscriber to The Courier
For as little as £5.99 a month you can access all of our content, including Premium articles.
Subscribe