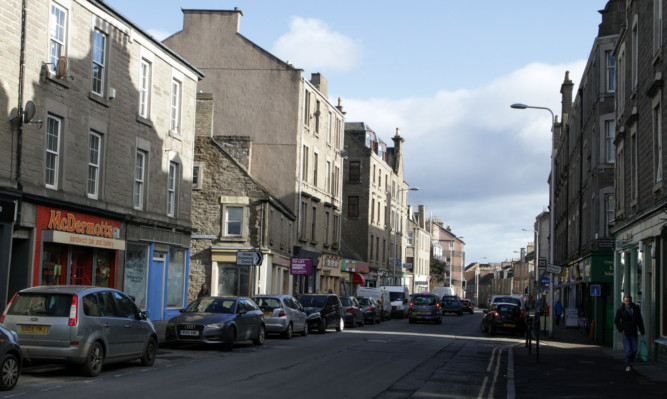 Businesses on Perth Road in Dundee are concerned about trade being affected by upcoming roadworks.
As revealed in Monday's Courier, Scottish Water is carrying out works to the pipe system in July, with sections of Perth Road being changed to a one-way system.
West End Butchers owner Ian Dunbar said that he found out about the scheduled disruption in The Courier and had not been notified by either Scottish Water or Dundee City Council.
Mr Dunbar, 47, said: "The closure might affect trade.
"We had problems the last time there was roadworks on the Perth Road.
"I read about it in The Courier this morning.
"I would rather have been notified by the council or Scottish Water than read about it in the paper.
"July's trade should be steady. If it's good weather and the schools are off, parents are more likely to cook something or have a barbecue."
Margaret Smith, 64, a sales assistant at bakers Fisher and Donaldson, was concerned that some of their older, less-abled customers might be put off by the works and wondered whether extra parking spaces might be made available.
"It will be hard to predict." she said.
"The only thing that might be difficult is the parking," she said.
"Our older customers are able to park outside if they have a permit and they can just pop in."
"Would there be parking provided elsewhere when the road works are on?
"Our regulars are passers-by on the street who usually pop in on their way down the Perth Road."
Fraser Reid, 31, the proprietor of greengrocers Frasers Fruit and Veg, said it is "just one of those things" and that his shop can be less busy during the summer months.
"They need to do the work so people can get access to water," he said.
"July is not too busy a time of year with the schools and universities off.
"It's our quietest time for footfall."
"We have a broad mix of customers who come in and I'm not 100% sure on the numbers of customers who drive in.
"They (Scottish Water) are not doing it for fun; it's just one of those things." Alannah James, 19, of McDermotts Sandwich Bar and Bakery, said parking was always a "problem" for customers.
The shop supervisor said: "Trade will probably be affected, but it's difficult to say.
"We conducted a questionnaire and the main problem was that people were struggling to get parked, so the roadworks might make it even more difficult to get here.
"In July footfall usually stays the same.
"The students provide a small part of our business but the warmer weather means more people walk in. It won't be great but we will just have to deal with it."
Scottish Water said they will released further details of the roadworks, including their exact location, later this week to," she said.