The Global Game Jam took over Abertay University in a 48-hour festival of computer code.
Around 150 students and lecturers, as well as industry professionals, collaborated to design all-new games.
The event is an international initiative where game developers are set a theme to inspire them.
The theme was 'What do we do now?', following on from 'We don't see things as they are, we see them as we are' last year and 'The sound of a heartbeat' in 2013.
In Dundee, 31 games were developed, a new record for the city which has participated in the festival for several years.
The Global Game Jam is focused on encouraging collaboration and creativity and is not a competition.
Ryan Locke, Abertay University lecturer and event organiser, said: "Game jams are a very exciting way of bringing people with different creative skills together, and working together to build something new and exciting in a short period of time.
"The Global Game Jam is a particularly exciting event as it's focused on creativity rather than competition, and each year's theme always pushes our participants to use their skills in new, expressive ways.
"The jam is all about fun and creativity, harnessing the phenomenal talent of Dundee's game development community.
"I can't wait to play the dozens of weird and wonderful new games that will be developed. It was a roaring success, but I'm a bit tired."
It is hoped the event will inspire the next generation of developers, who will join a proud history of Dundee digital production, including Rockstar Games, who produced Grand Theft Auto and Lemmings, and the creators of Minecraft.
Amy Stevens, a student programmer who took part in the jam, said: "I got involved because I had so much fun at the other game jam events that Ryan has run at the uni.
"I'm part of the Abertay Game Development Society so I formed a team with some friends from there.
"The theme was "What do we do now?", so we tried to think of a scenario where authority had disappeared.
"We ended up thinking about what happens to a game when the player is finished with it, and made a short narrative adventure about the Pong paddles wandering off the screen and exploring their world.
"Apart from that we ate a lot of junk food, didn't get a lot of sleep, and had a lot of fun.
"Game jams are really useful for building portfolio pieces and getting to try out new ideas that you don't have time or scope for in your job or studies.
"It's also really cool to meet new people from the game developer community."
All games produced during the jam from all over the world, including Abertay's games, can be played at http://globalgamejam.org/2015.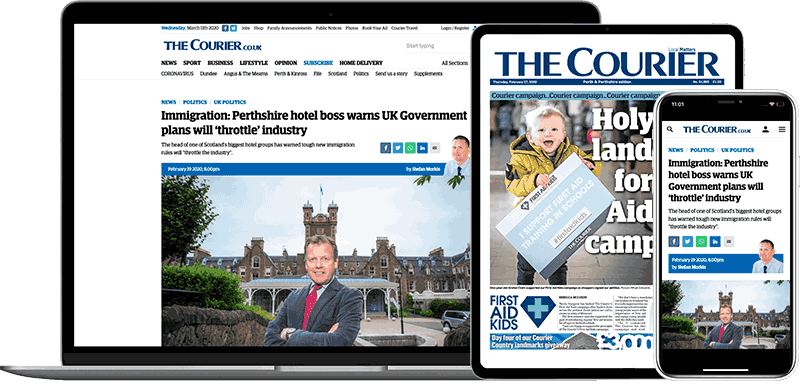 Help support quality local journalism … become a digital subscriber to The Courier
For as little as £5.99 a month you can access all of our content, including Premium articles.
Subscribe