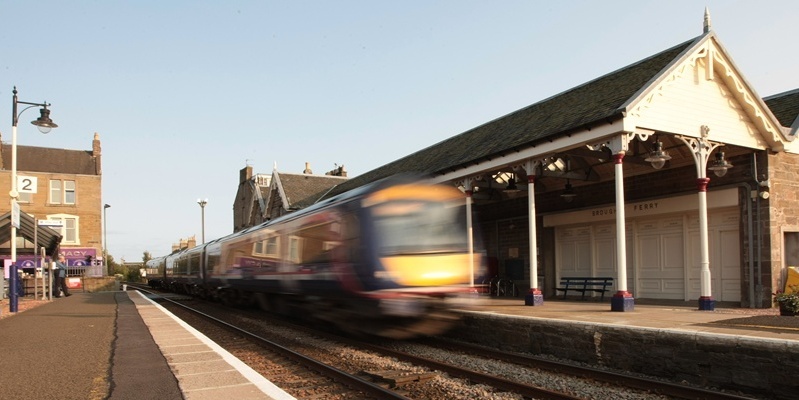 Broughty Ferry railway station is to see a big increase in passenger trains, with nine new services being introduced to daily timetables.
ScotRail confirmed the increase in stops at the station after The Courier learned new timetables will be introduced in December.
However, a commuter-friendly train that would drop passengers off in the city centre before 9am is conspicuous by its absence.
And in a clear message to passengers to use it or lose it, a spokesman for ScotRail said the new timetable was for a 12-month period and would be reviewed after that time.
There was no indication that other commuter stations in the Dundee area Monifieth, Carnoustie, Invergowrie, Errol, and Wormit will receive extra services.
The move for more trains to stop at Broughty Ferry came after agreement was reached between Tayside and Central Scotland Transport Partnership (Tactran) and ScotRail. The agreement aims to improve connections in the Dundee, Perth and Angus travel-to-work area and connections southbound to the Central Belt.
The confirmation follows a lengthy campaign involving local councillors, MSPs and members of the public and commuters.
ScotRail says the services will also provide new day-trip opportunities northbound to Aberdeen.
The enhancements follow Tactran working with ScotRail, Transport Scotland and Network Rail on proposals which had been identified in the Partnership's Tay Estuary Rail Study.
The additional calls represent a significant increase to the current four daily calls at Broughty Ferry.
There will be new calls northbound at Broughty Ferry (Mondays to Saturdays inclusive):
06.31 (Perth to Inverurie service) 09.45 (Edinburgh to Inverurie service) 11.07, 15.09 and 23.10, (Glasgow to Aberdeen services).
New southbound calls (Mondays to Saturdays inclusive):
07.41 (Aberdeen to Glasgow service), 15.09 (Aberdeen to Edinburgh) 17.11 (Inverurie to Edinburgh) 23.38 Mondays to Thursdays, plus a 00.33 service after Friday midnight (Aberdeen to Perth).
They will operate initially for 12 months and be subject to review beyond December 2012.
Councillor Will Dawson, chairman of Tactran, said: "Tactran has worked in partnership with the rail industry for some time now to introduce improved local rail services to the area. 'The increase in calls at Broughty Ferry will provide passengers with more travel options and will complement the recently announced increase in Dundee to Glasgow rail services."
He added: "There have been long-standing requests for additional train services at Broughty Ferry and we hope that the local community will demonstrate their support through using the new services."
Steve Montgomery, ScotRail's managing director, said: "We are delighted to introduce these new services. They will bring tangible benefits and encourage more people to switch to public transport."
The changes were brought to the attention of The Courier by eagle-eyed reader Steven Soutar, a student at Arbroath College, who lives in Tayport and regularly travels to college by train.
He said: "I came across it by chance when I went on the East Coast website (link) to see how their new timetables would affect me. 'Out of curiosity I put Broughty Ferry into the search and it came up with a whole load of new times.
"There's always only been two stops but now there are nine. I think it will help a lot of Broughty Ferry people but they're not really the perfect times for commuters."
Ferry SNP councillor Ken Guild said, "As far as this goes I welcome the changes as a starting point and it will benefit Broughty Ferry people who will be able to connect with other cities without first having to travel into Dundee by bus or car.
"However, it is noticeable that there are no commuter trains involved in this and I would hope that will be addressed as soon as possible."
Asked if services would be extended to other commuter stations in the Dundee area, a spokeswoman for Transport Scotland would only say: "We welcome the additional services planned for Broughty Ferry. Transport Scotland meets regularly with Network Rail and ScotRail on timetable and operational matters. Our focus is on timetable improvements that will enhance connectivity and maintain existing end-to-end journey times within the current subsidy."