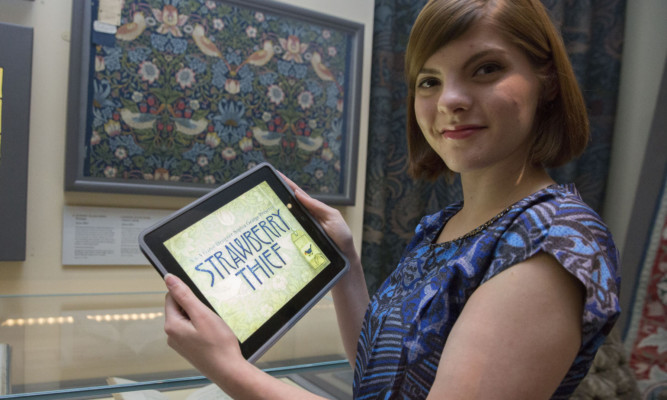 V&A at Dundee's game designer in residence has launch a new app inspired by the work of 19th century designer William Morris.
Sophia George, who is based in the city ahead of the building of the V&A Museum, says the Strawberry Thief game was inspired by a furnishing fabric on display in the V&A's Britain 1500-1900 galleries in London. Morris is well known for his textile and wallpaper designs made more than a century ago.
The game challenges the user to sketch and colour the famous pattern by flying a bird across the screen. Music used in the app was provided by the Royal Scottish National Orchestra (RSNO).
An early release was showcased at the Dare to be Digital gaming festival in Dundee during the summer and is available to the public from today.
The residency is a partnership between the V&A, Abertay University and the Association for UK Interactive Entertainment, the games industry body.
Ms George said: "I'm delighted to be releasing my second game, Strawberry Thief, after a wonderful year working in the V&A and at Abertay University.
"It's been an incredible opportunity to have access to the V&A collections, and to the game design experts at Abertay. With Strawberry Thief I wanted to show that games are an incredibly artistic, creative medium that can excite, inspire and even relax the player, quite unlike the stereotype of games just involving fast-paced violence.
"It's also very important to me that families play games together, that games are designed for older people to engage with technology, and that girls and young women see game art, design and programming as real career options for them."
Philip Long, director of V&A Dundee, said: "It's wonderful to see the way in which Sophia has responded to the V&A's historic design holdings in creating her Strawberry Thief game.
"Taking inspiration from design of the past to produce new innovative design is at the heart of the V&A, so we are delighted to be working with such a rising star as Sophia George."
For a special feature on the game launch, see Friday's Courier or try our digital edition.