 Hospital porters across Tayside are considering strike action that could cripple health service provision.
Members of the Unite union claim porters have been cheated out of a possible £6 million windfall from an "administrative bungle" 10 years ago.
They say the "error" put staff in a lower pay bracket than they should have been and, if their claim had been upheld, NHS Tayside would have been faced with a massive bill.
However, NHS bosses have dismissed the claim and Unite officials say they are now taking legal advice over their next move, which could result in industrial action.
Unite's Colin Coupar said representatives felt their case was not properly considered and believe their decision was simply based on the potentially massive cost to the board.
"It is very disappointing," he said. "The board has dismissed the claim and as far as they're concerned the appeals process is finished but we're going to approach senior management to see how they take the matter forward.
"We'll be taking legal advice then it's up to the membership if they feel they have been cheated.
"I have little doubt that this was more about the potential costs for the board rather than the merits of the case."
Unite raised the issue with NHS Tayside regarding the banding of porters under Agenda for Change.
The union claimed essential staff were mistakenly put in a lower pay bracket a decade ago.
Officials had hoped to reach an amicable solution over the disputed pay as they say any industrial action could grind the busy hospital to a virtual halt and leave patients stranded.
Mr Coupar said all he wanted was compensation for the injustice suffered by the estimated 150 porters.
Negotiations have been ongoing since the summer and Mr Coupar previously described the situation as an "administrative bungle".
He said: "If they were underpaid and there is evidence that points in that direction then there is a hefty back pay bill. We have estimated that bill at a total of £6 million."
Mr Cooper said the "error" occurred during the national pay evaluation 10 years ago and specifically affected front door porters.
He previously warned that if NHS Tayside were to claim pay arrangements were correct either at that time or today, there would be a backlash and potentially industrial action.
Details of how much each individual porter could be liable to receive are not available given issues of overtime and festive season cover.
George Doherty, director of human resources with NHS Tayside, said: "I can confirm that the concern raised by portering staff on grading has been fully considered under agreed process, involving the trade union concerned.
"We recognise that individuals may be disappointed by the outcome but are confident the matter has been handled correctly."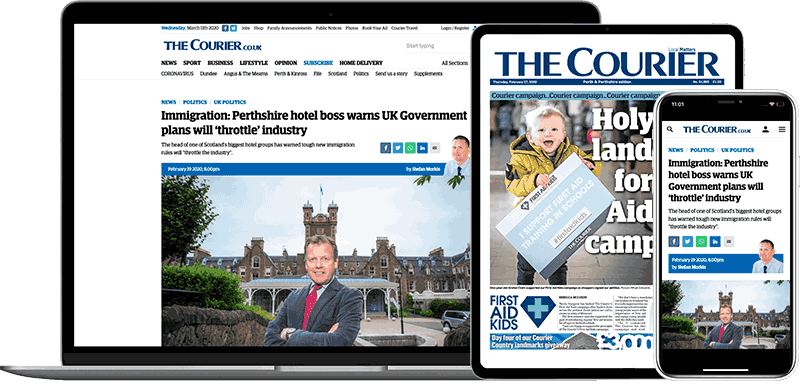 Help support quality local journalism … become a digital subscriber to The Courier
For as little as £5.99 a month you can access all of our content, including Premium articles.
Subscribe