 Dundee City Council has launched plans to introduce Gaelic language into everyday life despite a tiny amount of the city's population speaking the language
The plans (see from Page 71 in this council report) will see a massive push to boost the popularity of the language, with major changes including Gaelic translations being introduced to Dundee road signs.
There will also be steps taken to make Gaelic a part of the education system, as parents will receive a consultation on whether they want the language taught in schools.
The council website and printed council materials could be changed to include the language, with council staff also receiving additional training to give them an understanding.
With only 440 Dundonians able to understand Gaelic, and just 238 equipped to speak, read and write the language, the move has come under fire.
According to the report to the council's policy and resource committee, only 48 people speak Gaelic in their homes on a daily basis 0.03% of the homes across the city.
The new moves would be introduced in accordance with the Scottish Government's Gaelic Language Act 2005 and could start from as early as December next year.VIDEO: Watch how people got on when we asked them to pronounce Gaelic phrasesA foreword to the report by council leader Ken Guild says: "Although Gaelic has not been widely used in Dundee in recent times, it was spoken at some time virtually everywhere in Scotland. Gaelic was likely the dominant language in Dundee between around 800-1200 AD but was still being spoken in 1791 when a Gaelic chapel was built in Dundee for 'Highlanders recently arrived in the town'."
He adds: "Since Dundee does not have a large number of people who speak Gaelic today, the council will take a positive but proportionate approach in our efforts to promote the Gaelic language, including action to enhance the status of Gaelic and promote the acquisition and learning of the language."
Parent Kay Wilson, who has two children at Morgan Academy, hit out at the proposed changes.
She said: "Personally, I don't see the need for this as, in Dundee, there is no need for Gaelic in day-to-day life."
However, Wilma Kennedy, who works with Dundee Gaelic Choir and is training to be a Gaelic teacher, said it is important to keep the language relevant.
She said: "The only language I speak to my daughter is Gaelic. I think that throws a lot of people, but I think it's important to make Gaelic a normal and everyday thing.
"Any engagement in Gaelic is definitely a positive thing."
She continued: "People think it is tokenism, and that we shouldn't keep it going, but there should be a healthy respect for Gaelic.
"If they are going to put it on street signs, it needs to be on areas that have a Gaelic connection, so it makes sense to translate them.
"The language should be kept alive but I do understand that Dundee is not a traditionally Gaelic area."Introduce early in life, says Gaelic speakerOne resident who speaks Gaelic has expressed her mixed opinions on the new measures to promote the language in Dundee.
Dina Mackay, from Broughty Ferry, can speak and write Gaelic but no longer uses the language every day.
Dina, who learned Gaelic from her time spent in Lewis as a six-year-old, has backed the attempt by the council to introduce the language to youngsters.
She said: "Fewer and fewer people use it, so we do need to think of some way to get people interested in it.
"I think getting people to learn the language at a young age is really the only way that people will pick it up.
"If parents can help teach them, or learn it with them, that would help encourage people to pick up Gaelic.
"If the council want to introduce it to a younger generation I think that would be the right thing to do, and they should try and make it easily accessible online so it's easy for children to engage with."
She has stated that she does not think introducing signs in Dundee is a good use of council money, as it is a language that is rarely spoken in the modern day.
She said: "The only thing I have against these plans would be the signs they seem like a total waste of money.
"It's not just reading the words on the sign I doubt people would understand the pronunciation."Supporting Gaelic is statutory duty for councilsBosses of two organisations involved in Dundee City Council's plans to introduce Gaelic in the city have backed the campaign.
City council leader Ken Guild stated in the report: "Dundee City Council is committed to giving equal respect to the Gaelic language in recognition of its status as one of Scotland's national languages, its contribution to the richness and diversity of Scottish culture and its importance within our nation's heritage.
"Since Dundee does not have a large number of people who speak Gaelic today, the council will take a positive but proportionate approach in our efforts to promote the Gaelic language, including action to enhance the status of Gaelic and promote the acquisition and learning of the language.
"In line with Dundee's commitment to be a 'city of culture', we will place particular emphasis on opportunities to promote Gaelic through support for cultural activities and events."
John MacKay, CEO at Brd na Gidhlig, who provided guidance to the council on the plans, said: "The statutory duty on public authorities to develop and implement Gaelic language plans is an integral part of the Gaelic Language Scotland Act 2005 which was supported by all political parties.
"The plans play an important role in helping bodies to contribute to national outcomes, for example in strengthening national identity, and they have proven successful in other areas where the great majority of people do not speak Gaelic but many have an interest in it.
"The Dundee City Council Gaelic plan will give further stimulus to existing activity and will give more people native Scots and in-comers alike access to Gaelic language and culture.
"Modern Dundee is a forward-looking city and we welcome support for Gaelic in such an exciting place."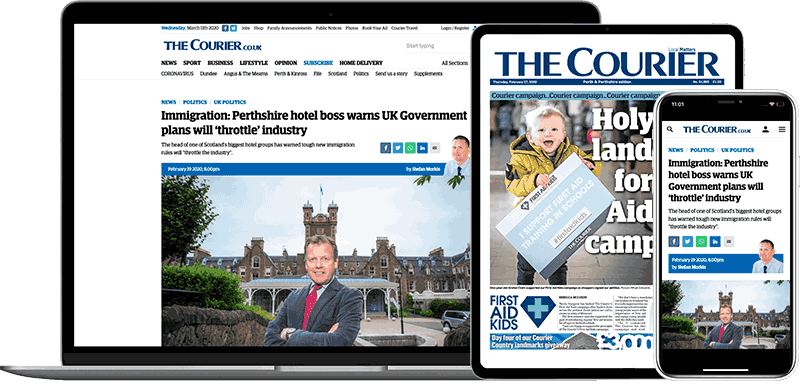 Help support quality local journalism … become a digital subscriber to The Courier
For as little as £5.99 a month you can access all of our content, including Premium articles.
Subscribe