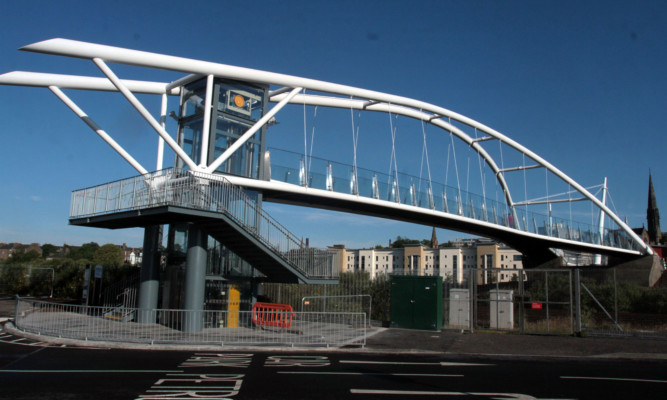 The lift at Dundee's new multi-million-pound Seabraes Bridge is out of action just two months after it was opened for public use.
Dundee City Council confirmed this morning that the lift had broken down and that contractors are being called in to fix it.
The £3.5 million bridge was opened in June, allowing locals to cross busy railway lines without having to undertake a 1500 metre detour via Dundee Station.
At the time the crossing was hailed as a vital part of Dundee's waterside regeneration.
Local councillor Fraser Macpherson said: "The bridge has only been open for a matter of weeks, so I'm disappointed to learn of this development.
"As a result I will be immediately contacting the engineer and project manager responsible to ensure that all necessary steps are undertaken to ensure that the lifts are fit for purpose.
"It's important that the bridge is free to be used by everyone, including people with disabilities."
West End councillor Richard McCready added: "Disabled people will face quite a hike if they have to go between Seabraes and the waterfront.
"It's important that the lift is fixed as quickly as possible."
A spokesman for Dundee City Council confirmed repairs are being carried out.
He said: "There have been some teething problems with the lift over the weekend. These have been reported to the contractor who will make the necessary repairs in due course."