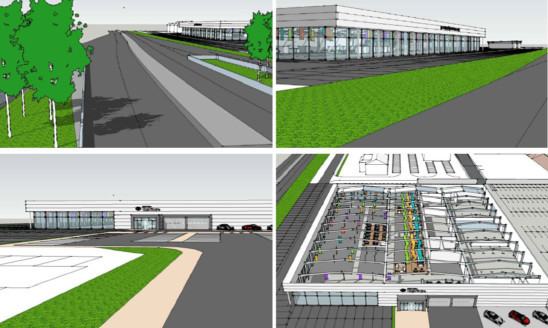 Plans to open a car dealership in Dundee on the site of the former Valentine's card factory could create up to 100 jobs.
Peter Vardy intends to transform the Dunsinane Industrial Estate site for a near-6,000 square metre car showroom, which will have room for more than 300 cars and The Courier can now reveal how the intended development will look if given the green light.
A formal planning application has yet to be submitted but the company hopes the process will be a formality and that the showroom will be open by this time next year.
If councillors do approve the plan it will breathe new life into a Dundee industrial site that has lain derelict for more than 20 years.
The Valentine's card and postcard factory closed down in 1994, 140 years after the company was first founded in the city.
The factory itself was demolished several years ago and the site by one of the major arterial routes into Dundee has lain empty ever since.
Peter Vardy's ambitious plans for the showroom also include an indoor cafe and two children's zones.
Three corner units surrounding the CarStore have been earmarked for development by other businesses, such as a fast-food outlet.
Unlike other dealerships, the supermarket will sell a range of vehicles, rather than just those of specific manufacturers.
The company opened its first car supermarket in Glasgow last year, selling more than 3,500 vehicles in its first 12 months. This rose to more than 4,000 in its second year of operation.
A public consultation on the plans was held at Dundee Ice Arena earlier this month. At the event, a company spokesman told The Courier the Kinnoul Road centre would be a long-term investment.
"The first year is just establishing the dealership," he said.
When he first confirmed the plans for the Dundee showroom in August, Peter Vardy said: "The site we have chosen in Dundee is close to one of the major routes through the city and will provide easy access for people from Tayside and the whole of the east of Scotland to enjoy the CarStore experience."