 Dundee West End residents claim they are living in fear since raiders targeted their homes.
Police are investigating after two attempted break-ins on Seafield Lane that both occurred two days before Christmas.
One resident even came face-to-face with the culprit as they tried and failed to break in to their home.
Meanwhile, Brenda Cordiner, 56, only discovered her home had been targeted after being told of the incident by neighbours.
She said: "Our neighbours told us that they had actually caught the guy trying to break the seal of the window and get in.
"They actually saw him through the window.
"We checked our back door and found that someone had also tried to break in.
"We had no idea before that. They tried to remove the glass from the door by cutting out the seal.
"It's a bit disconcerting, knowing that people are out there trying to do that kind of thing to people.
"We have been here for 23 years and nothing like this has ever happened.
"At this time of year, it could have really ruined someone's Christmas it's disgraceful."
Fellow resident Duriena Cumiskey, 68, said: "They never tried to get in my house but they did my next door neighbour's.
"One of them actually saw the guy through the window it must have been terrifying.
"I haven't ever had any bother here. It is really worrying. At least I've got my husband but some people are on their own.
A police spokesman said: "Police in Dundee are appealing for witnesses who may have seen a man acting suspiciously near Seafield Lane at about 6.50am on Wednesday December 23.
"Officers are investigating reports of attempted break-ins at two addresses in the area and are keen to trace an individual in connection with their inquiries.
"He is described as being about 5ft 11in tall, of medium build and was wearing a black jacket, a light-coloured hooded top and light-coloured trainers.
"Anyone who has information that could assist officers with their inquiries should call 101."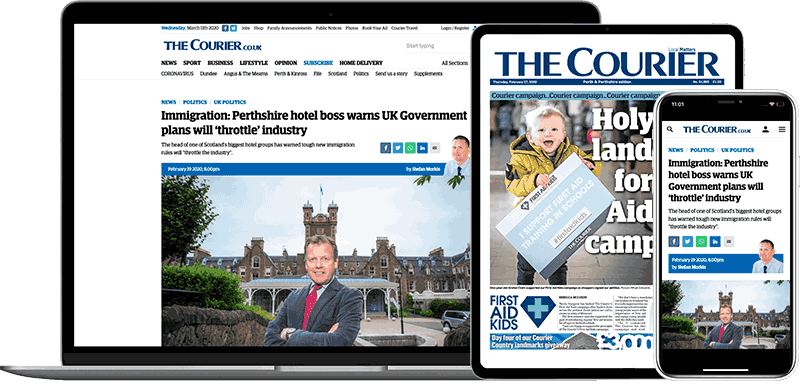 Help support quality local journalism … become a digital subscriber to The Courier
For as little as £5.99 a month you can access all of our content, including Premium articles.
Subscribe