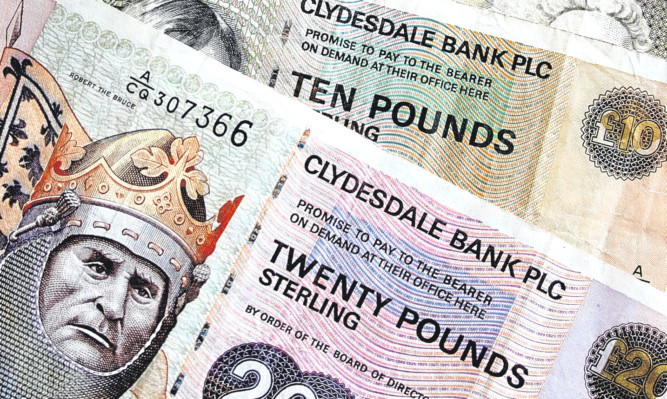 A major high street retailer is reminding staff in England to accept Scottish bank notes after a customer from Dundee was refused service in Milton Keynes.
William Mackay was asked "where's Scotland" after trying to pay for goods with a Scottish note.
He was also told by the shop assistant that she had "never seen" foreign bank notes before.
Mr Mackay, who regularly travels to England, became so incensed at the repeated refusals of companies south of the border to accept Scottish bank notes that he wrote to his local MSP Shona Robison about the issue.
He also said he intends to write to Prime Minister David Cameron about it.
But TK Maxx has now said it will remind all of its staff about accepting Scottish currency.
A statement issued by the company said: "Our standard practice is to accept Scottish bank notes as legal tender in our UK stores.
"We regret that this practice may not have been followed in this instance. We are working with our stores to refresh awareness regarding this practice."
Mr Mackay said TK Maxx's decision was "excellent news" but the problem remains widespread in England.
He said: "I am in Milton Keynes and still having the same problem.
"I just had to get off a bus because their machine could not accept a £20 note," he said.
In her letter to TK Maxx, Shona Robison said: "Not only was this a huge inconvenience it was also an embarrassing experience for my constituent, as the incident took place in front of other customers.
"I would like to request that your business reviews its current policies to ensure it includes the validity of Scottish notes, and that you incorporate the understanding that Scottish notes are legal tender in the UK, into your staff training."
The MSP said: "Although I am unaware if my constituent has received an apology as yet for the embarrassment caused by the actions of the staff member at the TK Maxx store, I welcome the company's admission that the incident was caused by a staff member acting outwith company guidelines
"I welcome their assurance that they will be reminding staff in the stores throughout the UK that Scottish banknotes should be accepted as legal tender. Hopefully this will prevent further incidents in the future."
Scottish bank notes are not technically legal tender in England and vice versa. However, banks must accept the notes so it is up to individual businesses whether or not to accept them.