The supporter of any football team can tell you exactly when its biggest successes and disappointments were.
Dundee fans can reel off the names of the Dark Blues' Championship-winning squad while United fans need little prompting to reminisce about the glory days of the 1980s.
It's the same story around the country and part of being a supporter.
But now a project set up to help people diagnosed with dementia is using those sporting successes and failures to help patients rekindle their memories and socialise with their peers.
The Football Memories programme was set up a year ago and there are now clubs across Scotland.
In Dundee, the Football Memories club takes place on the last Tuesday of every month in St Aidan's Church in Broughty Ferry, which runs the DCafe dementia group every Tuesday.
The cafe is celebrating its second birthday but the football programme has only been running in Dundee for around a year.
Nadia Sutherland, ndementia advisor with Alzheimer Scotland, said the cafe is to provide dementia patients and their carers with information, advice and support.
However, she said football is key in attracting men, who may be otherwise reluctant to attend.
"It's about bringing men together through a love of football," she said. "We've had a lot of support from United for All and the ArabTRUST."
The Football Reminiscence Project was kicked off by Alzheimer Scotland two years ago and is proving successful across the country.
Former footballers are asked to talk to members, helping to inspire reminiscences about the past with the aid of photos, newspaper clippings and other footballing memorabilia.For more information on the Football Memories project, visit www.footballmemories.org.ukIn Dundee, United legends Hamish McAlpine and Ralph Milne are among those who have taken part.
Dundee FC's championship-winning goalkeeper Pat Liney is also a regular volunteer.
Last week, it was the turn of ex-Dundee United striker Davie Sturrock to visit.
The striker signed for the Tannadice club from in the mid-1950s and played for the Terrors for five years.
The 77-year-old scored 23 goals in 83 appearances from the club.
As well as giving him a chance to talk about his playing days, the visit also lets him discuss live footballing issues with claims Nadic Ciftci bit Dundee's Jim McAlister in the Dundee derby the hot topic at the latest meeting.
"We had nothing like spitting or biting when I played," the former Accrington Stanley man said.
"There were hard tackles and a few broken legs, but I was too fast for that!"
Also a regular volunteer with the club is former Dundee United commercial director Bobby Brown.This week is Dementia Awareness week. See more at daw.dementiascotland.orgA former executive with sportswear manufacturers Umbro, he brings along a wealth of memorabilia, which is used as the basis for quizzes and to stimulate discussion, and a host of footballing stories.
Among the items he brought along were a Scotland cap won by Billy McNeil in 1965 and a host of replica shirts.
"Billy McNeil and I were good friends when I lived down in Manchester and he managed City," he said.
"I just read about the project and realised I could help. I used to just bring in photographs but the memorabilia helps create an atmosphere in the room," he added.
Football Memories clubs have been so popular that there are now plans to hold larger events where members of different clubs can meet, beginning in Aberdeen in October.
Volunteer Les Mackay, who lost his mother to dementia, said the beautiful game has been invaluable in helping many men diagnosed with dementia to open up.
"It is amazing the things that people come out with," he said.
"Michael White, who helped set up Football Memories, visits a lot of the clubs around the country and he said there was one where there was a patient who didn't speak and they didn't even think he could speak.
"But as soon as the football stuff came out he started talking away."For further information contact Nadia Sutherland of Alzheimer Scotland on 01382 210200 or Sharon MacLeod of Dundee Carer Centre on 01382 200422.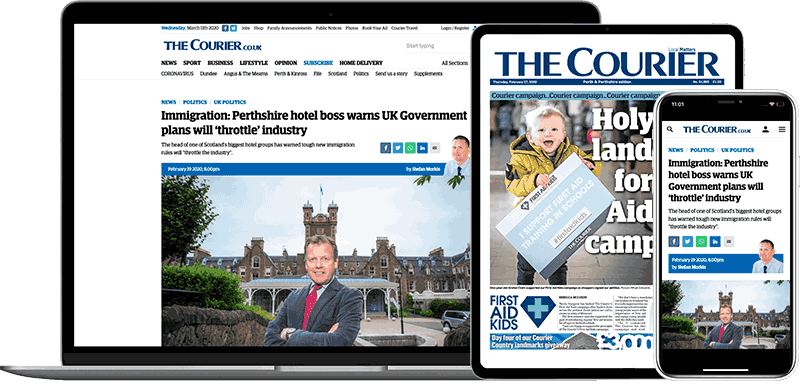 Help support quality local journalism … become a digital subscriber to The Courier
For as little as £5.99 a month you can access all of our content, including Premium articles.
Subscribe