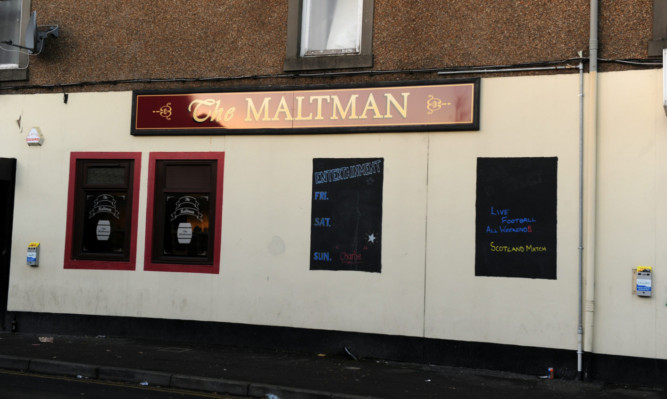 A DUNDEE pub has had its licence suspended for a week, after council officers were offered alcohol outwith the pub's licensing hours.
Two city council licensing standards officers had visited the Maltman on Mains Road shortly before opening time on Saturday November 24 and a customer offered to pour them drinks as there was no one behind the bar.
At a meeting of the licensing board yesterday, members heard Dundee FC football fans had been served more than £100 of alcohol from 8.55am that day before catching a supporters' bus to Paisley.
Stephen Tosh, the 22-year-old manager of the pub, apologised to the board, telling them he was "stupid" and that he had been pressured into opening the bar early by the fans.
Licensing standards officer Simon Goulding said he and his colleague Graeme Petrie had gone to the premises at 10.40am.
They spoke to a man who said he had missed the bus and had been serving himself as there was no bar staff in the premises.
It was also discovered that the pub had been operating without a premises manager since August, another breach of licence.
Mr Tosh said: "I fully admit I sold alcohol before time. It was very stupid of me.
"I bowed under pressure from the football supporters, which I shouldn't have done and I can only apologise for that.
"I would ask that any punishment can be towards myself rather than the premises.
"I made the mistake, not the pub."
When it was pointed out that he could have registered to host the football fans legally, Mr Tosh said he had been "misguided" and poorly advised.
"I'm very new to this I'm only 22 and this was my first opportunity in business," he said.
Licensing solicitor Brian Woodcock pointed out that as Mr Tosh was not a personal licence holder at the time of the offence it would be the pub's licence the members would have to determine.
Board convener David Bowes commended Mr Tosh for appearing before the committee and apologising, but advised handing out a two-week suspension of the pub's licence due to the "serious" nature of the offence.
However, Councillor Kevin Keenan moved that the ban should be cut to one week in light of Mr Tosh "falling on his sword", which was agreed.
Meanwhile, the manager of the Town House pub in King Street broke down in tears as she explained why alcohol had been supplied outwith the pub's permitted hours on December 8, the second time it had been found to have contravened its licence.
Moira Fairfield admitted that previously, in May 2011, she had permitted alcohol to be supplied free outwith hours and apologised for her "mistake" in allowing that.
She said on the second occasion in December 2012, she had been called away and left the pub in the hands of her partner Steven Smith who, she said, knew it was an offence to supply alcohol.
Mr Petrie told the board he and a colleague visited the pub at 10.40am for a routine inspection and saw two males drinking pints of lager and 80 shilling ale, which had been supplied free of charge.
Mr Smith was behind the bar and he allowed the officers entry.
Ms Fairfield wept as she told members Mr Smith had been suspended for a fortnight after the incident.
She said: "I was called away. All the staff knew not to do it. This is our livelihood."
The members agreed that Mr Smith should be summoned before the board for a review hearing.
Also at the meeting, the Fair Price Convenience Store on Dalhousie Road had its alcohol licence permanently revoked.
Officers discovered litre bottles of vodka with counterfeit duty stamps on sale in the shop. No one from the store was present at the meeting.
awilson@thecourier.co.uk