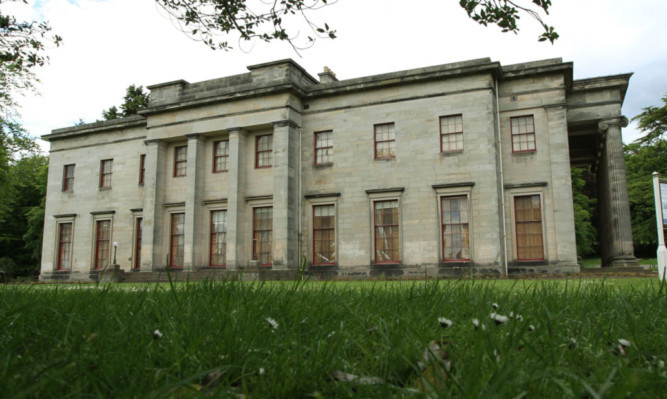 One of Dundee's most iconic buildings has taken a step closer to becoming a visitor attraction after the council offered it up for outside investment.
City chiefs are hoping to lease Camperdown House as a potential hotel, restaurant or commercial gallery.
Edinburgh firm DTZ is marketing the mansion on behalf of the council, but the length of lease and price are up for negotiation.
The council previously issued a development plan for Camperdown Park for 2012-17 in which it said the house would play a "prominent role" in the future of the site if brought back into use.
But council chiefs say that financial sustainability is a "key driver" of any future use, and that "any proposal should at least break even on a long-term financial basis".
It's thought investment from the private sector is the most likely option for the house.
A variety of potential uses have been outlined for Camperdown House, which was built between 1824 and 1828, including a boutique hotel, high-quality restaurant and cafe or a commercial gallery.
DTZ's brochure for the house says: "Camperdown House is an 'Ionic Greek revival' mansion house with sandstone exterior.
"Set over two storeys, with attic and basement levels, the property contains a wealth of internal and external period features in good condition, such as the stained glass dome, marble chimney pieces, original timber door pieces, cornicing, columns and pedimented portico.
"The condition of the building's internal and external fabric is generally in good order.
"This is in large part attributable to the management and maintenance programme which has been carried out by Dundee City Council, including roofing, completed in 2011 costing £800,000."
A Dundee City Council spokesman said: "Offers are now being invited for the long-term lease of Camperdown House and surrounding environs.
"This marketing campaign has been launched in an effort to bring the property back in to productive use, perhaps as a hotel, restaurant and caf, commercial gallery, wedding venue, conference centre and museum or visitor centre.
"Potential occupiers are being encouraged to incorporate elements in their proposals which reflect the historical significance of the property.
"The council is emphasising that an element of public access to view parts of the listed interior of the building, and any items of art, would also be desirable.
"There is also the potential for links with local educational establishments for on-site catering and training.
"This follows a very successful tearoom project which was run by students from Dundee & Angus College."