 A man who threatened to throw his partner out of a Dundee hotel window has been given the chance to find work abroad by a Dundee sheriff.
William Carmichael, 51, admitted being involved in an altercation at the Holiday Inn Express on Dock Street on August 13.
The court heard how he assaulted his partner by threatening to throw her out of a window and biting her on the lip to her injury.
A member of staff at the hotel was also assaulted when Carmichael attempted to butt him during the incident.
Carmichael admitted both charges, as well as behaving in a threatening and abusive manner by shouting, swearing and threatening to kill police officers during his arrest and transfer to police HQ.
He was also appearing on a breach of bail for contacting his partner during the visit to Holiday Inn Express.
Carmichael's defence agent said: "She met him by arrangement but he was there in breach of his bail conditions.
"There is some prospect of the relationship being continued. This was a complete one-off."
The court heard how Carmichael works as a plater and his defence agent said work in the UK has "dried up".
He told the court how Carmichael has been given the opportunity to carry out work in Holland but it was dependent on him being available for work to build up reliability.
Sheriff Alastair Carmichael said he did not want to ruin Carmichael's job opportunity as he had been out of work for some time.
He said: "I will order a report to be completed eight weeks from now.
"I will defer sentence for some time away from now for you and the social work department to get together so a report can be prepared."
Carmichael, 51, of Blackwood Avenue, Paisley, will return to court in May.
The special condition preventing him from contacting his partner was also lifted by the court.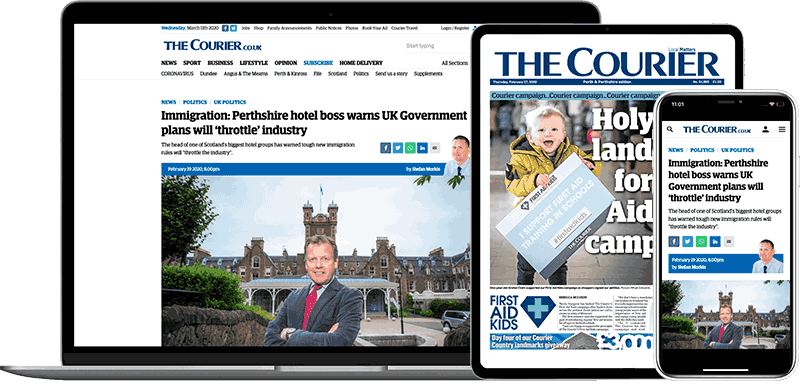 Help support quality local journalism … become a digital subscriber to The Courier
For as little as £5.99 a month you can access all of our content, including Premium articles.
Subscribe