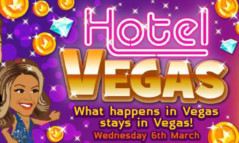 A Dundee games company has released a new celebrity game which is considered too racy for release in the UK.
Hotel Vegas, described as "a madcap mix of celebrity parody and time-management game play", was given its global launch last night but not in the UK by order of the company's legal team.
Gamers are tasked with building a hotel while dealing with a chaotic assortment of famous people involved in incriminating events, at the same time keeping the paparazzi at bay.
The game uses characters loosely based on the famous or infamous, including a "certain young prince" who get up to all kinds of activities thought too raunchy by lawyers to be released in the UK.
https://youtube.com/watch?v=BYwVXO5OZbA%3Frel%3D0
Paul Farley, managing director of the makers Tag Games, said: "Essentially, the theme of the game is that players have to make sure that what happens in Vegas, stays in Vegas!
"It's … a light-hearted, casual gaming romp that parodies a number of celebrities who have a habit of taking themselves too seriously.
"It's our latest and most controversial title yet and that really just pokes fun at celebrity culture.
"It's got rough likenesses to famous people so we have got to be careful, hence our lawyers have told us not to release it in the UK just yet, but I don't expect too many problems.
"It's just a case of seeing what the reaction is after it's launched and probably release it in the UK later on."
Mr Farley added: "It was sort of inspired by a certain young prince's activities in a Vegas Hotel but it's very tongue-in-cheek. It could turn into a little bit of a storm but we don't really expect to be selling it on its infamy.
"The game is celebrity-based and that hasn't really been done before. It hits the demographic of middle-aged women and also teenagers, and it'll be interesting to see how it goes down with the American media."
Tag Games' most recent titles were Funpark Friends and Car Jack Streets.