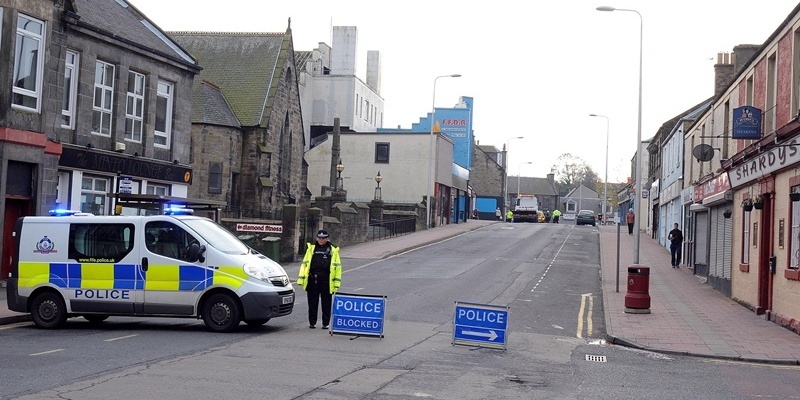 A Fife woman was recovering in hospital last night after being badly injured by a reversing van as she made her way to work on Monday morning.
Passers-by watched in horror as Lesley Murray (43) was dragged underneath the pick-up's wheels for several feet as she crossed the road in Lochgelly's Bank Street shortly before 8.30am, leaving her with serious injuries.
It is understood Ms Murray was trapped under the vehicle for some time before firefighters were able to safely prop it up so she could be attended to by paramedics.
She was rushed to Queen Margaret Hospital in Dunfermline suffering from what doctors described as "traumatic injuries", including a suspected fractured skull and collapsed lung, although her injuries are not thought to be life threatening.
Ms Murray had been standing on the pavement near The Golden Fry chip shop seconds before the incident took place. She had started to cross the road to get to the FFDR premises when the incident happened.
An ex-policeman, who did not want to be named, was one of the first people on the scene.
"I was on my bike and had stopped when I saw the lorry reversing and heard screaming," he said. "I ran forward trying to get the driver's attention but you could just see the woman's arms flailing and then the body rolled underneath the lorry before she was dragged about 10 feet or so.
"The driver was obviously in total shock and the lassie was trapped under the vehicle."
He added: "She was able to talk and tell me her name was Lesley but she was clearly in a bad way. She said she couldn't breathe and she was quite spasmodic unfortunately, so it was obvious she had to get to the hospital quickly."
The witness added that someone managed to find a jack to lift the vehicle two or three inches to give Ms Murray more room, although two fire crews from Lochgelly used chocks, blocks and airbags to lift the van further when they arrived.
A nurse, who was in the area, tended to Ms Murray before ambulance personnel arrived.
George Courts (39), who works in a local butcher's shop, said: "It's just horrific and a real shame for her, but I hope she's okay.
"I feel sorry for the guy in the lorry as well the lorry wasn't going very fast at all. It just looks like it has been a terrible accident."
Police are thought to be treating the incident as an unfortunate accident. The road was closed for several hours with diversions in place.
Photo David Wardle.