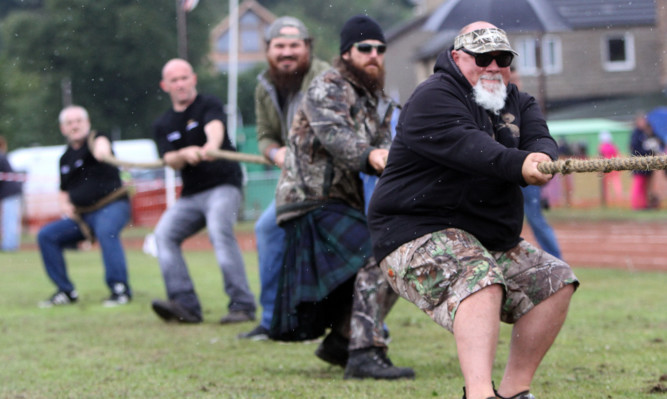 A Fife highland games is set to go global after filming took place for a hit US television show at the weekend.
Stars of the reality series "Duck Dynasty" were getting to grips with Scottish culture – and rope – as they filmed scenes for their latest series.
Broadcast on the American A&E cable network, the programme has attracted in the region of 11 million viewers and follows the lives of the Robertson family, who have made their fortune from selling products for duck hunters.
However, their latest adventure has been a slightly damper affair, getting soaked in torrential rain as they took on locals in a tug of war competition.
Hank John, who is involved with the organisation of the Inverkeithing Highland Games, said that little was given away by the film crew when they asked to film at Saturday's event.
"They must have done some research beforehand as they phoned us up and asked to film the games," he said.
"We agreed as long as it didn't interfere with the organisation of things. We were surprised about it but some of the locals had watched the show and knew who they all were.
"We don't know exactly what they were doing here but there was about a dozen crew and I think it went better than they expected. About halfway through the day one of the crew said that they had so much material.
"They were very professional."
It looks as though the mystery behind the Duck Dynasty's appearance in Fife will continue for now, with The Courier currently attempting to speak to the show's producers.