 Plans to turn RAF Leuchars into an army base are "well under way", the Ministry of Defence has confirmed.
The MoD has also claimed the decision to move the RAF from Leuchars to Lossiemouth will offer "much higher long-term savings" despite an initial outlay of at least £5 million to renovate Leuchars.
The MoD was responding to comments made by North East Fife MP Sir Menzies Campbell who questioned the costs of relocating RAF Leuchars squadrons to Moray after it emerged that investment has yet to be made at Leuchars to prepare for the arrival of the army.
As reported by The Courier on Monday, the proposed £5 million spend is still at the planning stage, Defence Minister Mark Francois confirmed in a written parliamentary answer to Sir Menzies.
Mr Francois was unable to say at this time what the total cost would be of the transfer of the RAF from Fife to Moray or give exact dates of the army's proposed arrival.
Sir Menzies said that while clearly it is right the army benefit from high quality training facilities and accommodation, it should not be forgotten the MoD justified sending the Fife-based Typhoon force north to Lossiemouth on the basis it would save the taxpayer money.
Responding to Mr Campbell's concerns, an MoD spokesman told The Courier: "Plans to move Typhoon to Lossiemouth and turn Leuchars in an army base are well under way.
"Whilst the plans certainly make the best use of the existing Defence Estate and achieve the best value for money for the taxpayer, we must also ensure that the facilities meet the army's needs.
"We can be clear however, that the basing changes still offer much higher long-term savings in spite of the cost required to renovate Leuchars."
The MoD spokesperson described the MoD's overall basing plan as a costed and funded programme providing a laydown in the UK that is required to support the generation of military capability.
The basing plan represents a £1.8bn infrastructure investment programme.
The spokesperson said the army will start arriving at Leuchars in June 2015 as previously announced with the "vast majority" in place by the end of that year.
"However, no exact dates or details of numbers were available.
The MoD spokesperson said: "Following the strategic defence review, RAF needed three not four RAF fast jet bases.
"It wouldn't make military sense, and would be uneconomic, to close RAF Marham or RAF Coningsby.
"With the Tornado force drawing down at Lossiemouth, we concluded that we could build up the Typhoon force there rather than continuing at RAF Leuchars."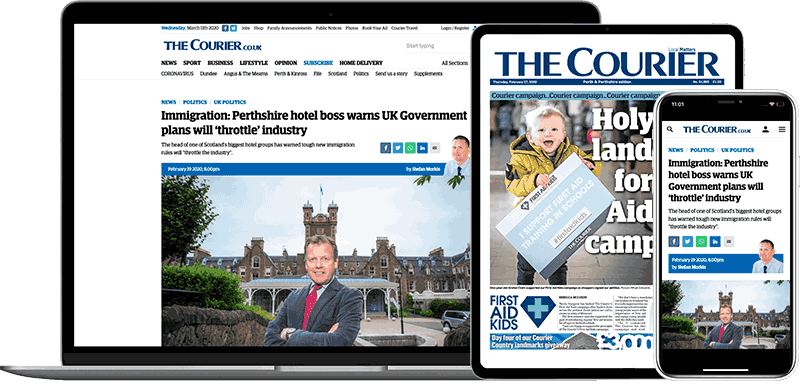 Help support quality local journalism … become a digital subscriber to The Courier
For as little as £5.99 a month you can access all of our content, including Premium articles.
Subscribe