 Less than two years after being formed, the Cupar-based women's rugby team Howe Harlequins have made it to BT Finals Day and they cannot wait for their trip to Murrayfield, discovers MICHAEL ALEXANDER.
It's less than two years since a group of Cupar-based ladies calling themselves the Howe Harlequins met casually to get fit through rugby.
Yet in that relatively short time, the nucleus of players who trained socially has developed into one of Scotland's finest women's rugby sides.
Coaches Gavin Anderson and Craig Manson were instrumental in helping the group of women get fit, with a rugby ball occasionally involved.
The coaching team have since expanded to include ex-England international front row player Mandy Palmer-Norrie and Howe Knight veteran Ian Cole.
Now the Harlequins are preparing to take on Glasgow University in the final of the BT Women's Bowl, which takes place at Murrayfield in Edinburgh on Saturday April 16.
"At first we set up a rugby fit session which was initially aimed at family members who wanted to learn about rugby, " coach Craig Manson, 43, told The Courier as the Harlequins went through their final training session at Duffus Park in Cupar.
"The Howe of Fife Rugby Club has a very good mini and youth section. But we had a lot of parents standing at the side of the pitch each week who wanted to know more about rugby. Gavin and I said 'let's put on a rugby fit session for mums and dads so that they can go home and throw the ball about with their kids.'
"We had six or seven women turn up at our first session in July 2014 and its popularity grew from there, developing into a competitive full team that train together twice a week and aim to become a formidable force in the women's game."
The Howe of Fife Rugby Club is a well-established force in Scottish rugby with a number of youth and senior sides.
From David Rollo who won 40 caps for Scotland and the British and Irish Lions, to more recent Scotland caps Peter Horne and Chris Fusaro, the Howe has seen an impressive number of youngsters go on to make a name for themselves at the highest level, and more generally, retain a lifelong love for the sport.
Yet until the formation of the Harlequins, they didn't have a women's team, meaning young girls would be cut loose from the club once they had out-grown the thriving mini section.
Manson says that recognition, funding and publicity for the women's game remains some way behind the men's game.
But having secured sponsorship, an official Harlequins team strip and having been awarded a Sportsmatch grant, funded by the Scottish Government through sportscotland, he acknowledges that the introduction of a female side at the club is an important part of the Howe's support for the growth and development of the game.
And what's made it special is the mix of players that have come in ranging from those with little or no rugby experience to some seasoned pros.
"There was clearly an appetite there to begin with, but it is quite amazing how it's developed in such a short time," added Manson.
"Among the eight initial members were captain and vice-captain Clare Fox and Katie Williams, Karen Strachan and Nicola Howat, who is now part of the Scotland Women under-20 set up.
"Katie and Nicola were both from the successful Bell Baxter High School youth setup so had played rugby before, but Clare and Karen were completely new to the game. Unfortunately due to injury, Clare Fox won't be running out with the side on Saturday which is a blow as "Foxy" has been an integral part of our success both on and off the field but Katie has stepped up and is showing that our faith in her abilities were not misplaced".
Katie added: "Reaching the final is an unexpected but phenomenal achievement for myself and the team. I feel that the level of commitment put in by all of the players and coaches is what has got us this far.
"It would mean the world for me to return back to Howe turf carrying the bowl, as we have all definitely earned it.
"Our season has been a massive learning curve for everyone, with improvement every game. It took us a while to find our feet, but as soon as we gelled together as a team, the only way was up! I can't wait for the final, my ambitions are very high, I'm confident we can further our story, hopefully with a fairytale ending."
Scottish Rugby run the National Development League for new teams and the Harlequins entered that in the autumn of 2014.
After a season of NDL, the coaching team decided that the 'Quins were ready to take on regular league rugby and joined National 2 for the 2015/16 season.
As a new chapter unfolds, large crowds are expected at the final. It'll be a special day for Craig's six-year-old daughter Darcey who will be a match mascot alongside Mandy Palmer-Norrie's nine-year-old daughter Jos who plays for the P5 team.
But Manson has a simple message for the players.
"I've told them to just go out there, enjoy It and create some memories. It's a big achievement – the Howe Harlequins are the first senior Howe team to go to finals day at Murrayfield. They have created a bit of history. If they enjoy it, they can win it. I don't want to be overconfident, but with that frame of mind they have the ability to win.
"This is just the start of our five-year plan to set up a sustainable team. The club is in the process of starting up its under-15's or mini 'Quins as they have affectionately called them to run alongside the under-15 team at Bell Baxter High School.
"This will support the long-term sustainability of our team," added Manson. "The future is certainly bright for women and girls rugby at the Howe of Fife."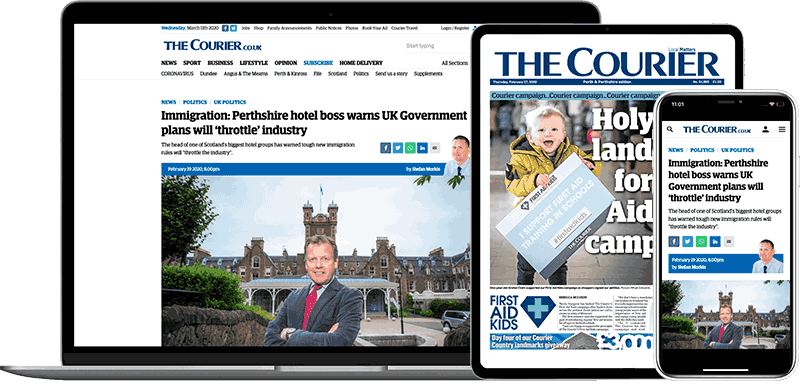 Help support quality local journalism … become a digital subscriber to The Courier
For as little as £5.99 a month you can access all of our content, including Premium articles.
Subscribe