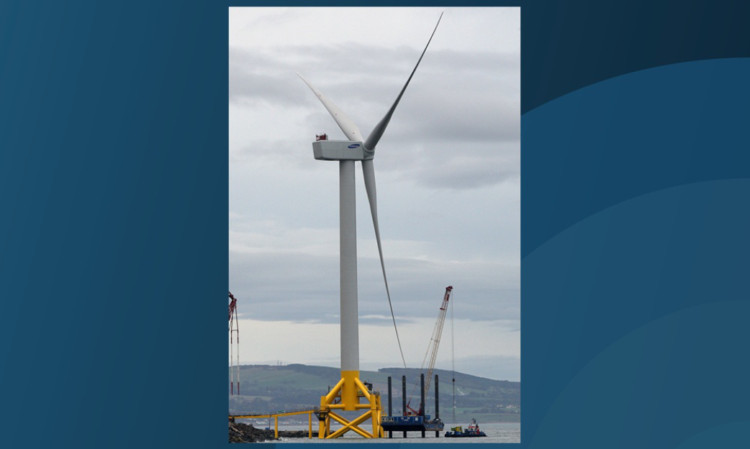 Fife has a new landmark on its skyline after work on the world's largest and most powerful offshore wind turbine was completed.
The seven megawatt machine, located just 50 metres off the coast at Methil, will act as a test bed for Korean owners Samsung Heavy Industries as they look to prove out the technical capabilities of the cutting edge device.
SHI revealed it had invested £70 million in the demonstrator project, which could run for up to five years, and the Fife turbine's blades are expected to turn for the first time before the end of the year following commissioning work.
SHI is already in talks with potential customers about the device, which should be capable of producing enough power for 4,800 homes, and it is expected the company will make an investment decision on whether to build a manufacturing base in Fife within two years.
A production plant could create up to 500 long-term jobs for the region.
The turbine was installed by principal contractor Graham Construction after the project was given the green light in the spring.
Ironically one of the main issues which faced the build was the strength of the wind in the Methil area which meant contractors had to wait for good weather windows to lift the giant gearbox and blades into place.
Executive director Leo Martin said it had been both an interesting and rewarding project to be involved with.
"The project was technically challenging and Graham has risen to meet these challenges and has delivered a high quality product on time and within budget," Mr Martin said.
"This project cements the relationships we have forged with Samsung Heavy Industries, Fife Council and Scottish Enterprise as well as our supply chain partners and allows Graham to continue to be an active participant and leader in the renewables and marine sector."
SHI worked closely with both Fife Council and Scottish Enterprise as it developed the project.
Maggie McGinlay, director of energy and clean technologies at Scottish Enterprise, said: "This, along with planned investment from other key players such as Areva and Gamesa, is helping to create a potential manufacturing hub on the east coast, which would lead to significant opportunities for our supply chain companies. We look forward to continuing to work with SHI to support its long-terms ambitions for Scotland."