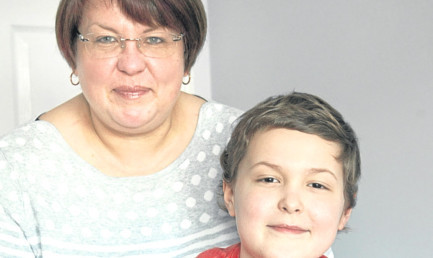 A 10-year-old boy battling cancer has been overwhelmed by public support since it was revealed he faced cancelling his latest fundraiser.
People have snapped up tickets for Toby Etheridge's charity ball after reading that his family had struggled to sell seats.
Among them is sports presenter Gabby Logan, who saw nationwide coverage of his plight and bought two tickets for the event.
A DeLorean car made famous in the Back to the Future films has also been donated for the night.
Toby's delighted mum Alison thanked The Courier for raising awareness of Toby's 1st Magical Ball, prompting widespread attention in national press, social media, television and radio.
Confirming the ball in Cupar, where the family live, will go ahead, Alison said: "Toby is over moon!"
The event, including a dinner cooked by MasterChef: The Professionals winner Jamie Scott, is among a series of events Toby has staged to raise money for CLIC Sargent since his diagnosis with acute lymphoblastic leukaemia in December 2014.
His heroic efforts for the charity which helps children and young people with cancer and his battle with the disease have been charted on his own Facebook page, Toby's Magical Journey to be Cancer Free.
Alison said: "We have been overwhelmed with comments and offers of support that have flooded in through Toby's Facebook page.
"It just shows you there are many kind-hearted people out there."
This time last week only 17 tickets had been sold but now more than 85 have gone. You can buy yours here.
Gabby is unable to attend the event on March 5 but has offered her tickets to anyone who can prove they have already bought two.
The car loan was pledged by DeLorean Hire Scotland, which was eager to support Toby's work for the charity.
Toby hopes to raise £5,000 for CLIC Sargent, which has supported him and his family during his treat- ment.
He has a CLIC Sargent nurse and when he is in the Royal Hospital for Sick Children in Edinburgh the charity also provides a play therapist.
Toby's dad Richie is to cycle the coast of Brazil in September to help him to his target.
Following his diagnosis, Toby missed several months at St Columba's Primary School but returned last September.
He has another two years of chemotherapy ahead of him.