 A crumbling 900-year-old Fife church is to be saved thanks to lottery funding.
The Heritage Lottery Fund (HLF) has granted £90,500 to preserve the ruined Kirkton Church in Burntisland, which last heard a sermon in 1592 and is covered in weeds.
Ian Archibald, trustee and convener of Burntisland Heritage Trust, said: "Thanks to the Heritage Lottery Fund, Kirkton Church and graveyard will at last receive the attention and conservation they deserve.
"By unlocking the site's rich cultural heritage locals and visitors will be able to learn about this valuable heritage resource."
The bid was submitted by the Old Kirkton Church and Historic Graveyard Steering Group, comprising the trust, Fife Council, Burntisland Community Council and Floral Action Burntisland.
It will help put one of Fife's most important historic sites back on the map as a tourist attraction.
Kirkton ceased to be the parish church in the 16th Century when Burntisland Parish Church was built and it has fallen into a state of disrepair.
The grant will see Burntisland's oldest building preserved for future generations. This will involve clearing off ivy growth, stabilising crumbling walls and repairing fallen and broken gravestones.
Councillor George Kay said: "The local community has been working hard on this project for many years, and I would like to congratulate them on this success. I am delighted that all their hard work has paid off, that Kirkton Church will be made safe and that the graveyard will be opened again as a public space of great historical interest."
Councillor Susan Leslie said: "A variety of community and educational activities are planned, including work with the primary school to develop pupils' heritage skills and knowledge."
With the project to transform the relic expected to take two years, more funding will be needed to reach the estimated total cost of £130,000.
Colin McLean, head of HLF Scotland, said: "Thanks to National Lottery players, neglected or run-down historic buildings are not only rescued, but conserved for future generations to enjoy and learn from.
"The project will rejuvenate a much-loved building, showing how it can provide an important link to a community's roots, while being adapted to meet the needs of today."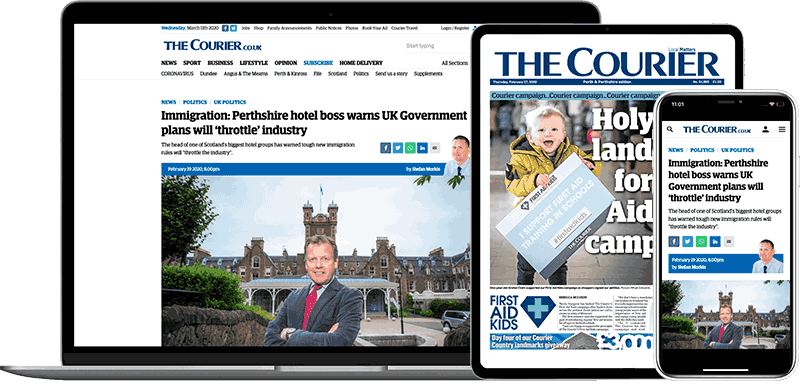 Help support quality local journalism … become a digital subscriber to The Courier
For as little as £5.99 a month you can access all of our content, including Premium articles.
Subscribe