More than a century of coal-powered electricity production in Scotland will come to an end this afternoon with the closure of Longannet.
As engineers break the final arc of electricity, a boom audible for many miles around will signal the beginning of the end for the last remaining coal-fired power station in Scotland.
What will follow will be a period of decommissioning and demolition which will last for around four years.
Constructed over eight years,Longannet was the largest powerstation in Europe when it came online in 1969.
At its peak the site was fed by 27,000 tonnes of coal a day and could generate up to 2,400 megawatts of energy enough to power 40 million light bulbs.
Now the pile of coal which oncetowered over the site is so reduced that a red layer at its base, which is there to warn of low coal levels and is known to the workers as "the carpet", is visible for the first time in 47 years.
Not even during the miners' strikeof 1984-85 did levels drop so low.
Hugh Finlay, generations director at Scottish Power, said: "I remember the days when we had 1.5 million tonnes, nearly two million tonnes, there. Not that far back we had a million tonnes and now we are down to very little and you can see the carpet.
"We are scraping the coal from that to use it before the station comes to an end.
"Longannet has contributed more electricity for the national grid than any other power station in Scotland'shistory, and it is a sad day for everyone at Scottish Power.
"Coal has long been the dominant force in Scotland's electricity generation fleet, but the closure of Longannetsignals the end of an era.
"For the first time in more than acentury, no power produced in Scotland will come from burning coal."
Friends of the Earth has welcomed the closure of the power station and the move towards renewable energy.
Director Dr Richard Dixon said: "For the first time in at least 115 years there will be no coal being burnt to makeelectricity anywhere in Scotland.
"For a country which virtually invented the Industrial Revolution, this is a hugely significant step, marking the end of coal and the beginning of the end for fossil fuels in Scotland.
"Coal is the dirtiest of the main fossil fuels and in a peak year Longannet was producing 10 million tonnes of carbon dioxide, around a fifth of all Scotland's climate change emissions.
"The closure of Longannet will be the single biggest reduction in Scotland's climate change emissions ever."
WWF Scotland director Lang Banks said: "The closure of Longannet marks an historic and inevitable step in our energy transition, as Scotland becomes one of the first nations to end its use of coal for power.
"While the power station has served the nation for many years, the world is moving forward to cleaner, cheaper forms of renewable energy generation.
"Independent research shows that Scotland could have a secure electricity system powered almost entirely by renewables by 2030.
"The Scottish Parliament's own inquiry into energy security provided ample evidence from the National Grid and other experts that our electricity supply is absolutely secure without Longannet."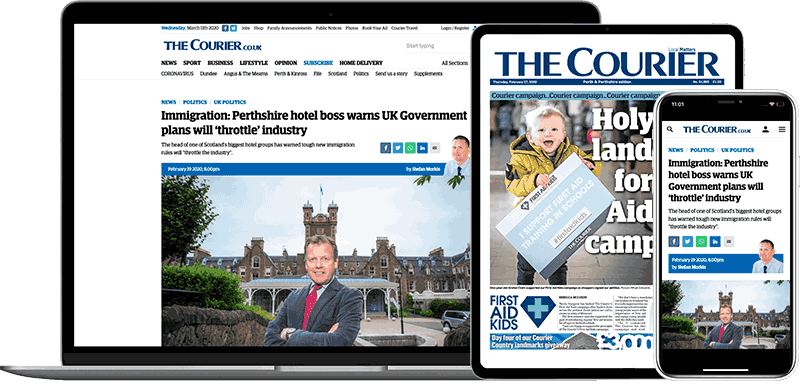 Help support quality local journalism … become a digital subscriber to The Courier
For as little as £5.99 a month you can access all of our content, including Premium articles.
Subscribe