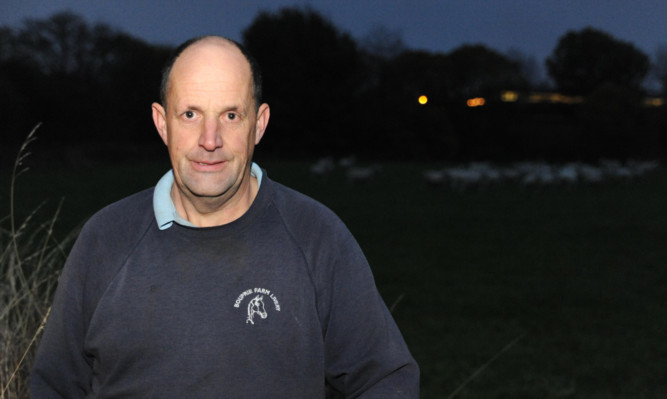 A Fife family have spoken of their shock after one of their sheep was slaughtered in a horrific attack.
Police were called to Bouprie Farm near Aberdour to find that the tupp, which was named Sammy by the farm owners, had been beheaded and gutted in what appears to have been a premeditated strike by a gang of poachers.
Now the Kerr family, who own the farm, are keen to see the perpetrators brought to justice as soon as possible.
The sheep was owned by 22-year-old Craig Kerr, who is currently on holiday, and his father Stephen firmly believes the killing was done for human consumption.
"The way the skin was cleanly cut off in one makes me think it's someone with butchering skills," he said.
"The police were stunned when I took them to the field and showed them.
"He was worth about £600 but it's more a case of what kind of person would do something like this."
The incident took place some time between 4pm on Sunday October 18 and 11am on Monday October 19 at the farm, which is located to the west of the B9517.
And Mr Kerr's wife Gail also believes the culprits had planned the whole thing.
"Its head was taken off, it was gutted and its wool was taken off they've taken the meat and shoved the rest to the side," she added.
"There are two ways into the farm and whoever has done this has come in the back way, so they knew what they were doing.
"We've got a livery yard here and everybody was familiar with Sammy so it's just really sad. It's disgusting what they've done."
Mrs Kerr added that there were rumours of a demand in the Kirkcaldy area for certain types of meat, but she warned: "My son just messaged me to tell me he injected the tupp with penicillin the day before he left, so hopefully the meat will be easy to trace."
Inquiries are ongoing to establish the full circumstances of how the animal was killed and anyone who can assist police with their investigation is asked to come forward.
Sergeant Kate Blackwell, from Dalgety Bay Police Station, said: "We are keen to hear from anyone who remembers seeing anything suspicious around this farmland between October 18 and 19 and would ask that they contact police immediately.
"In addition, anyone with any further information relevant to this inquiry is also asked to get in touch."
Anyone with information should contact Police Scotland on 101 or alternatively the charity Crimestoppers on 0800 555 111.