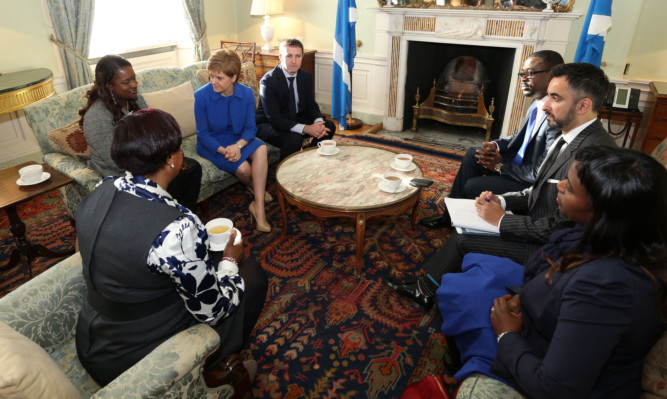 The family of a man who died in police custody have made a renewed call for a public inquiry to be held as they met with First Minister Nicola Sturgeon.
Father-of-two Sheku Bayoh, 31, died after being detained by officers called to an incident in Kirkcaldy, Fife, on May 3.
His relatives have been calling for answers over the trainee gas engineer's death and have held talks with a series of officials including Scotland's top prosecutor Lord Advocate Frank Mulholland QC and Police Scotland chief constable Sir Stephen House.
An investigation into the circumstances surrounding the death is being carried out by the Police Investigations and Review Commissioner (Pirc), who submitted an interim report to Mr Mulholland in August.
Mr Bayoh's three sisters and brother-in-law had a 90-minute meeting with Ms Sturgeon and Scotland's Justice Secretary Michael Matheson at the First Minister's official residence in Edinburgh on Tuesday morning.
Solicitor Aamer Anwar, who was present for the talks, said afterwards: "His family met with the First Minister and the Justice Secretary this morning to voice their serious concerns over the wider issues of deaths in custody and the inability of Pirc to hold Police Scotland to account.
"The family welcome the First Minister's compassion and support but appreciate that the Scottish Government cannot comment until the Bayoh investigation is concluded.
"The family were pleased that the Scottish Government will not shy away from learning lessons and bringing about fundamental change, if necessary.
"Whilst it is for the Lord Advocate to decide on whether there are grounds for criminal proceedings, a fatal accident inquiry (FAI) is mandatory.
"The family do not believe that a FAI has the remit to deal with serious public concerns, the wider issues of deaths in custody, the use of restraint techniques, the issue of race, the lack of police accountability and the insufficient powers of the Pirc, nor will the findings of an FAI be binding on Police Scotland."
He added: "Accordingly, on that basis, the family have this morning asked the Scottish Government to consider the possibility of holding the form of a public inquiry under the Inquiries Act for which there is already legal precedent in Scotland.
"We understand from the First Minister that serious consideration will now be given to such a request."
A spokesman for the Pirc said: "The independent investigation into the circumstances surrounding the death of Sheku Bayoh in Kirkcaldy on Sunday May 3 is ongoing.
"The commissioner continues to work closely with the Lord Advocate to investigate all relevant lines of inquiry, including gathering further expert opinion in relation to the cause of death.
"It would be inappropriate to go into further details during a live investigation."
Following the meeting, Ms Sturgeon said: "I can only imagine the pain and distress the family has gone through since their loss and I took the opportunityto express my sincere condolences to them.
"While we cannot comment on the investigation itself, myself and Justice Secretary Michael Matheson listened carefully to the concerns raised and I expressed my determination that the family be provided with the answers they deserve."