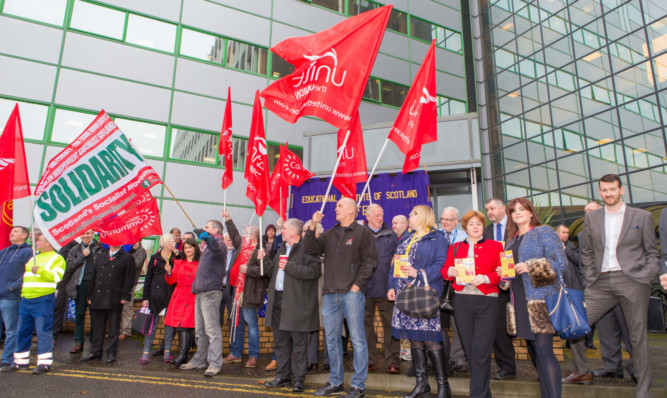 Measures contained in the UK Government's Trade Union Bill represent an "ideological attack" on organised workers and are a threat to workers' rights, Fife councillors said.
In a direct message to the Conservative government at Westminster, Fife Council leader David Ross said a joint motion by the Labour administration and SNP group which was passed by 63 votes to three set out the "strongest possible" opposition to David Cameron's plans.
The controversial Bill, which is facing its report stage in the House of Commons on November 10, would mean workers would have to have a 50% turnout threshold for a strike vote to be legal.
Unions protested against the legislation outside Fife House in Glenrothes prior to yesterday's meeting of Fife Council, and their concerns were echoed by the majority of elected members in the council chamber.
"We in this council value the positive and constructive relationship we have with our unions," Mr Ross said.
"We may have arguments as time goes on, but we have always tried to resolve our differences in a collaborative fashion. What this Bill seems to be trying to do is drive a coach and horses through that approach and it really is attacking the democratic rights of workers."
The motion, backed by all councillors apart from the three-strong Conservative group who were booed when the vote took place, highlighted the council's concerns over plans to introduce thresholds for industrial action, introduce a 14-day notification period to taking industrial action, bring in limits on facility time, make unlawful picketing a criminal rather than a civil offence and restrict trade unions' use of social media during industrial disputes.
Councillors heard a plea by Ian Waddell on behalf of the unions and the Fife People's Assembly ahead of the meeting, while a large crowd lobbied councillors entering the building.
One of the protesters, John Gillespie, from Unite, said: "You can't underestimate the Tories at Westminster, and this will go through unless we make ourselves heard. They want to attack the trade unions, they are looking to attack the workers of this country and it is big business that is driving this.
"It's a disgrace what is happening in this country we've had the bedroom tax, benefit sanctions and now this. It's issue after issue after issue it's unacceptable."