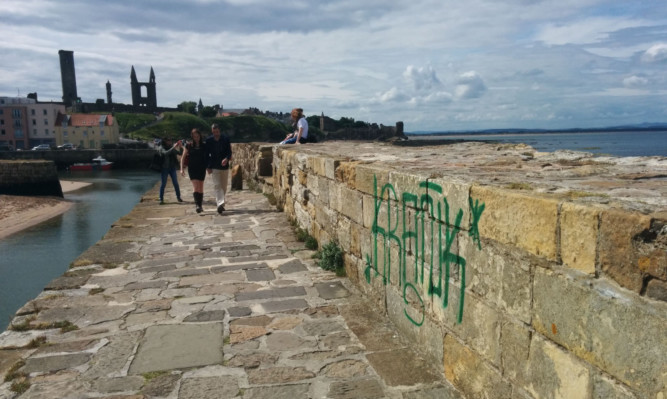 A tagger has struck half way out on the main pier at St Andrews Harbour.
The ancient stone work has been defaced by a green tag that has left many shaking their heads.
Hundreds of tourists are in the town, and many more are expected next week when the Open Championship is staged at the Old Course.
St Andrews Labour Fife councillor Brian Thomson said: "I was not aware of this latest piece of graffiti, but since being contacted by The Courier, I've reported the matter to the police, and the council department that arranges for the removal of graffiti."
He added: "Graffiti of this type is a criminal offence, and I would urge anyone who knows anything about who carried this out to contact the police."
Angus Thomson, Fife Council's senior manager for catering, cleaning and facilities management, said: "The graffiti on the pier wall was brought to our attention this morning.
"We've been out to look at it but as the pier is listed it will take a bit longer to remove the graffiti as we need to make sure any work carried out is in line with listed building policies.
"Graffiti can be treated as a crime of vandalism or malicious damage.
"If you see anyone doing it I'd urge you to contact the police."
A police spokeswoman said: "Police in St Andrews are aware of the graffiti that has appeared on the main pier and are currently working to establish who is responsible.
"This incident was reported to police in May. It is not connected to any other incidents of graffiti in the St Andrews area."
Fife Council cleared graffiti from the wall by the East Sands Leisure Centre last week around nine months after it was first reported.
However, graffiti next to St Andrews University's Gatty Marine Laboratory is still there almost a year on.