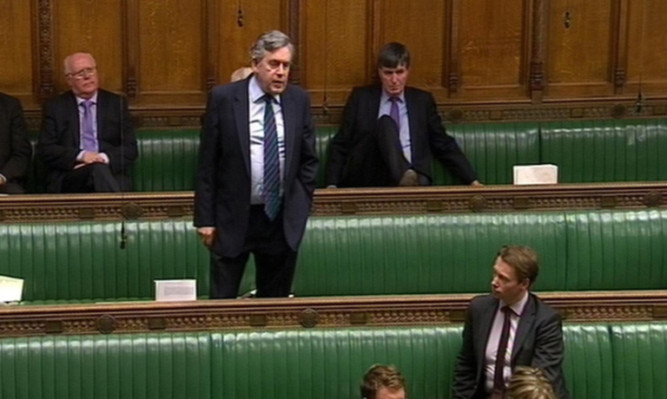 THE GOVERNMENT must rescue two factories in Fife which employ disabled workers to make lifejackets, former prime minister Gordon Brown said during his first appearance in the House of Commons for more than a year.
Mr Brown said thousands of disabled workers would never work again if they lost their jobs as part of the Government's decision to close down the Remploy factories.
In a rare speech in the Commons, the Labour MP for Kirkcaldy and Cowdenbeath last night said he had found two potential buyers for the factories but ministers needed to step in first and bail them out.
Under Government plans, the two factories at Leven and Cowdenbeath will close as ministers axe the factories which employ disabled workers.
Mr Brown, who has been criticised for rarely speaking in the Commons, said: "These are factories in Fife which have an order book, an established product which people want to buy… and these are factories for which we have two prospective buyers.
"But these are factories… that cannot be expected under current circumstances to be able to move from a loss of £1.6 million two years ago and a prospective loss of £800,000 this year, to overnight financial viability under the proposals that the Government is putting forward, even with the subsidy that is on offer for a short period of time.
"I want to show the Government why we have to be more flexible in ensuring that jobs that can be saved, and should be saved, are actually saved and that these privatisations do not become the liquidations of factories in Leven and Cowdenbeath."
Mr Brown said with each factory operating at a deficit of £20,000 per worker, a Government subsidy of £2,000 was going to make little difference.
He added: "Our view is that there is a way forward for a viable product, that the Government should try and make the time to achieve the viability that is necessary. The employment support has to be greater."
Work and Pensions Minister Esther McVey said she would be prepared to meet Mr Brown, the Scottish Government and officials from Fife Council when she travels to Scotland next month.