The final curtain at Byre Theatre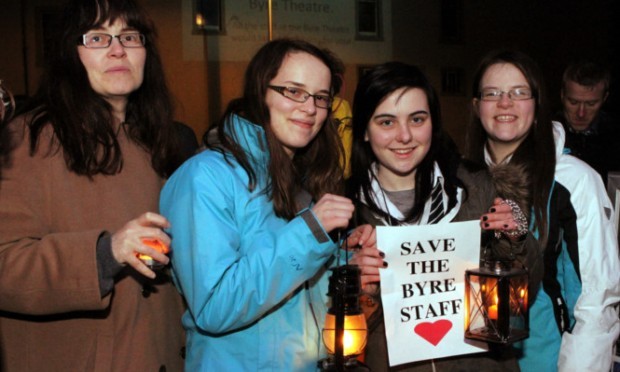 The curtain came down on 80 years of history at the Byre Theatre in St Andrews last night.
The second of two charity dance shows, organised by professional dancer Jemma King (29), from Strathkinness, and pupils from Jenny King's Academy of Dance in St Andrews, signalled the official closure of the theatre, which announced a week ago it is likely to go into liquidation.
The Byre officially closed last Saturday, but the charity shows were allowed to go ahead after staff who had lost their jobs agreed to work voluntarily to help raise £10,000 for cancer patients at Ninewells Hospital in Dundee.
Late last night, as the audience left the theatre, Save the Byre campaigners held a night light vigil on Abbey Street.
Candles, lanterns and warm clothes were in abundance. Like the best of Scottish encores, there was even time for one final rousing rendition of Auld Lang Syne, followed by a moment of reflection.
The Byre Theatre of St Andrews Ltd, which is likely to go into liquidation within days, sought financial advice from accountants Henderson Loggie last Thursday when it became clear there was simply no cash left to pay wages.
The theatre said it had struggled to make ends meet since the Scottish Arts Council (SAC) removed its flexible funding in 2010 a key grant of £160,000 a year.
Internal restructuring and good ticket sales were not enough to save the operation.
Directors say the loss of the SAC revenue funding proved to be pivotal in the demise of the company that runs the building.
However, Fife Council which owns the building and the SAC's successor, Creative Scotland, are optimistic the Byre could reopen under new management by the end of the summer.
North East Fife SNP MSP Roderick Campbell yesterday met Creative Scotland director Iain Munro and will be meeting a Fife Council representative on Monday morning.
He is also seeking an early meeting with Fife Cultural Trust.
He said: "It is clear that the Byre was suffering from significant financial difficulties and certainly these seem to be more complex than was initially suggested."
* Ministers are doing "all that they can" to support attempts to save the theatre, First Minister Alex Salmond said yesterday.
Mid Scotland and Fife MSP Claire Baker raised the issue at Holyrood.
Mr Salmond said: "I am sure that members from across the chamber hope that a good future can be found for the Byre Theatre and we admire the work that it has done in the past."