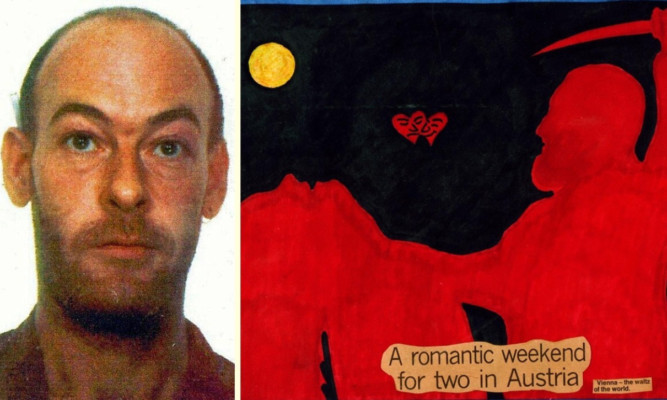 Murder squad detectives from London are investigating whether a notorious double killer dubbed the Scalp Hunter also murdered a woman from Fife.
John Patrick Sweeney, from Liverpool, was convicted in April 2011 of butchering two women and dumping their body parts in canals.
He was jailed for life in 2002 for attempting to murder another ex-girlfriend.
Officers from the Metropolitan Police Service (MPS) Homicide and Serious Crime Command are now seeking the whereabouts of a Fife woman who is believed to have been the girlfriend of Sweeney in the mid-1980s.
DCI Howard Groves, in charge of the investigation, said: "Sweeney is believed to have gone out with this woman, who was possibly called Fiona, and shared a house with her and others in Hornsey Park Road, north London, in 1985.
"She may have originally been from the Fife area in Scotland, possibly Burntisland, and her father or other family member had links to the prison service in Scotland.
"It is also believed that whilst in London she was with another woman who may also have been Scottish."
In April 2011 Sweeney, then aged 54, was told he would die in jail after being given a whole-life sentence at the Old Bailey for murdering former girlfriends Paula Fields and Melissa Halstead.
Their dismembered bodies were discovered a decade apart in England and Holland and police now fear other missing women may have suffered the same fate. The MPS has been investigating the whereabouts of three other former girlfriends as part of its investigations.
Carpenter Sweeney boasted of his violence in lurid paintings and verses found at his home. In one picture, showing a bloody axe, he called himself the Scalp Hunter.
The possibility of a Fife connection emerged from "reasonably fresh information" which the MPS is now working on.
Over the past week, Met officers have travelled to Fife as part of their Operation Sherston probe.
While officers fear Sweeney may have killed other women, they hope 'Fiona' from Fife is still alive. They want to jog memories in the hope that people with information will come forward.
Anyone with information about 'Fiona', or who knows of any person who fits this description, of their current whereabouts or of any details that may help the inquiry, is asked to contact the incident room at Barnes Green Police Station on 0208 247 7821. Alternatively, information can be left anonymously via Crimestoppers on 0800 555 111.
A spokesman for Fife Constabulary said they had no reports of any missing Fife women of that name from that era.
"Fife Constabulary is only facilitating communication for the Metropolitan officers. Fife Constabulary is not investigating any possible offence and all communication re this inquiry should be directed to them," he said.
For more on the crimes for John Patrick Sweeney, see Thursday's Courier or try our new digital edition.