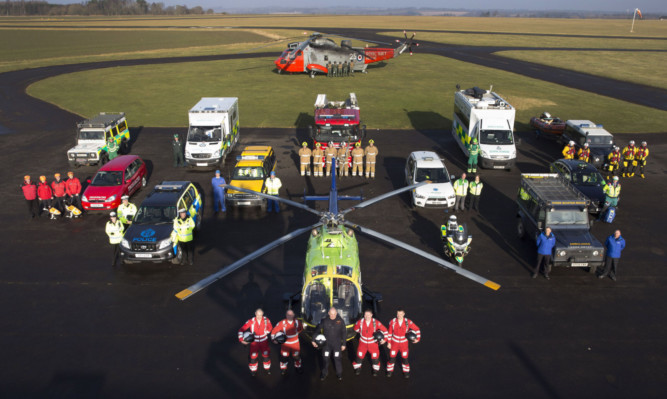 Scotland's Charity Air Ambulance at Perth is rapidly approaching its landmark 500th emergency callout.
After 20 months in operation, flying to emergencies across the country, SCAA has become a recognised part of the 999 emergency response network.
To commemorate the operational landmark and pay thanks to the working relationship with other vital services the country's only charity-funded helicopter air ambulance welcomed their partner agencies to Perth Airport yesterday.
Among those attending were representatives from Police Scotland, Scottish Fire and Rescue, RN Search and Rescue, Scottish Ambulance Service, RNLI, Coastguard, First Responders, BASICS Scotland, Mountain Rescue and Special Operations.
Dispatched by the Scottish Ambulance Service with their paramedics on board, the distinctive SCAA helicopter has become a familiar site in the skies around Perth as it heads off to attend serious accidents and incidents.
The service has proved its worth time and time again by slashing the time taken to get patients from accident scenes into medical care.
"Kinloch Rannoch is one hour 50 minutes from Ninewells Hospital by ambulance compared to 19 minutes by helicopter," said Gavin Davey, SCAA chief executive.
"The road journey from Spittal of Glenshee is one hour 45 minutes compared with 14 minutes by air the figures speak for themselves. The importance of getting seriously injured people to hospital within the 'golden hour' is well-known.
"If someone suffering blunt force trauma can be taken to an operating theatre or accident and emergency department within an hour it can be significant.
"Over 90% of Scotland's population is within a 30 minute flight of Perth that is an incredible statistic."
The SCAA helicopter crew have 486 missions under their belt and the last incident attended was in Anstruther on Wednesday.