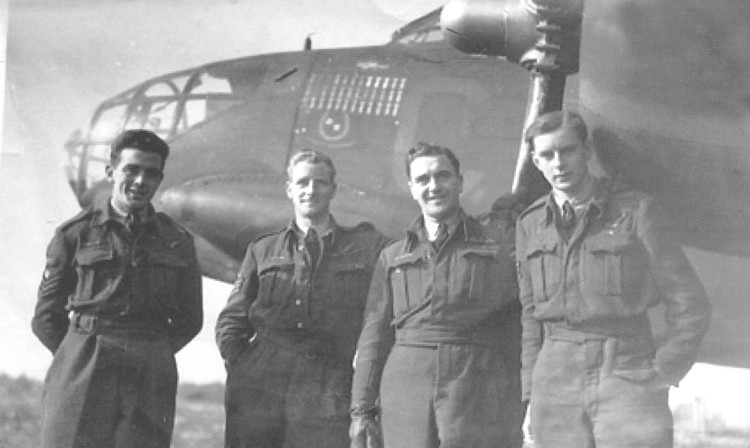 A search is under way for the descendants of two Tayside men who died when their aircraft was shot down over France during the Second World War.
All four crew members of the bomber were killed on the night raid over France in 1944 and they were laid to rest in the same French graveyard.
Michael Bailey, who lost his 34-year-old father, Joseph, in the tragedy, is trying to contact the relatives of the crew to see if they might like to join him in marking the 70th anniversary of the incident.
"I am hoping to trace any descendants of Alexander Dow from Scone and Robert Francis Rosemond from Dundee," said Mr Bailey, who lives in Douglas on the Isle of Man.
"During World War II, Alexander was pilot of a Boston lightweight bomber, Robert was the wireless operator, a Donald Murray from Essex was rear gunner and my father, Joseph Edmond Bailey from Sussex, was navigator.
"Unfortunately, on the night of August 4 1944, when on their fourth mission of that day trying to prevent the German tanks and armaments retreating through the Falaise Gap, their plane was shot down and all of the crew were killed.
"They are all buried together, in the only military graves in the beautiful village cemetery of Cahan, which is located approximately 50km (31 miles) inland from the Normandy beaches.
"As this August will be the 70th anniversary of that tragic day, over 20 direct descendants of my father, including his seven grand-children and eight great grandchildren, plan to visit the graves as an act of remembrance."
Mr Bailey is hoping his appeal through The Courier will be read by relatives of the two Scots.
"From war records, Alexander Dow's next of kin was listed as 'mother and father, Robert and Isabella' and Robert Rosemond's were 'mother, Annie Dickson, and niece, Miss M. Rosemond'."
When the plane was first reported missing in 1944, The Courier ran an article about Mr Dow which noted that he was a keen footballer who played for Scone City Boys and St Johnstone Young Men's Club.
At that time he had a brother, Thomas, who lived in Abbey Crescent in Scone.
Anyone who may be related can contact Mr Bailey at michaelbailey@manx.net or by phone on 01624 629257.