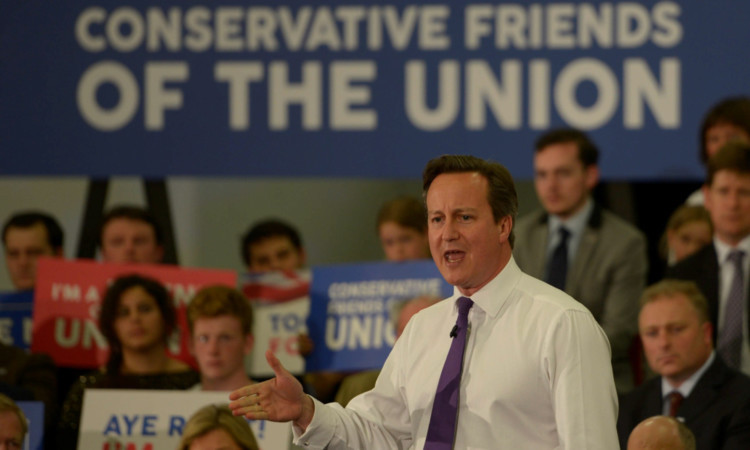 The Prime Minister has said it would "break his heart" if Scotland was to vote Yes in September.
Addressing a "rally for the Union" in Perth, David Cameron made an emotional plea for Scots to cross No in their ballot paper on September 18.
He was criticised by the SNP for making the address in the Dewars Centre in Perth in front of more than 300 delegates and alongside Scottish Conservative leaderRuth Davidson after announcinga £500 million investment in Glasgow but nothing for other Scottish cities.
Mr Cameron told the assembled Tory supporters: "This is an issue of the heart. We have had all the arguments, and I'll run through some of them again in a minute, but it is an issue of the heart.
"And it would break my heart to see our United Kingdom break apart. I was thinking about it a few weeks ago when I was in Belgium at a summit.
"I was underneath the Menin Gate with the name of those thousands of people who came to fight for freedom on our continent, who gave their lives.
"I was able to show my fellow European prime ministers and presidents the name of one brave Scot, Captain Geddes, my great-great-uncle, who went from Scotland to live in Canada but when asked reported for the call of duty and fought for the United Kingdom."
He also said First Minister AlexSalmond and the SNP had failed to make a "really positive case" for independence,accusing them of leaving vital questions about Scotland's future after a Yes vote unanswered.
The Prime Minister added: "None of the key questions have been answered.It's extraordinary when you think how long Alex Salmond has planned this moment.
"He's had years to think of the answers but yet with 77 days to go you can see he is Alex the unready not a clue about the enormous gamble he would be taking with our nation's future."
He concluded by urging Scots to "rise up" and "say no to the noisy Nationalists".
Scottish Finance Secretary JohnSwinney welcomed the announcementof a City Deal for Glasgow but slammed the fact it was not spread around thecountry.
The Perthshire North MSP said: "It is particularly insulting that the PrimeMinister came to Perth Scotland'snewest city to deliver a speech but not extend the deal to this growing and dynamic city.
"If the Prime Minister wants to be treated seriously in Scotland he has to recognise and respond to aspirations throughout the country."