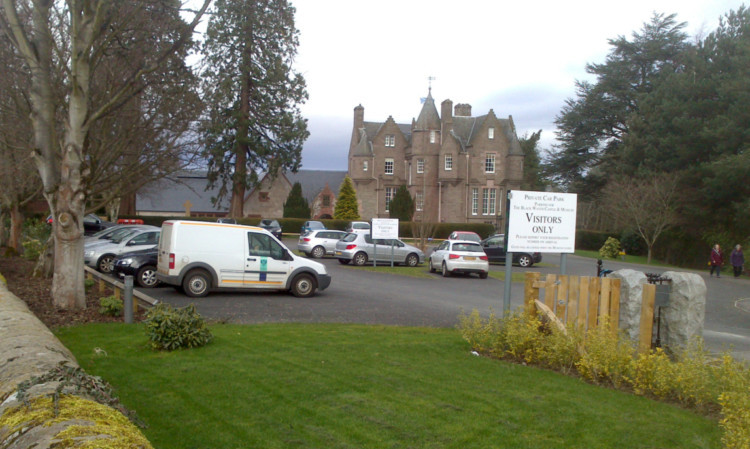 An "arrogant and obnoxious" parking warden is being investigated by Perth and Kinross Council following an ugly spat with a driver.
The incident took place at a recent Jack and Jill market a sale of baby and children's clothes at Bell's Sports Centre in Perth, when two parking attendants issued excess charge notices to several vehicles that were parked at the rear fire exit for unloading.
Andrew Stewart, 45, of Callander, was one of several stallholders at the market who were annoyed at the wardens' actions and noticed that, while they were handing out tickets, they had left their own vehicle in the neighbouring Black Watch Castle and Museum car park, which is only for visitors to the venue.
After he photographed their van to capture the registration, Mr Stewart claims the wardens drove it towards him and one of the men then got out of the vehicle and confronted him.
"I'm 6ft 2in tall so am not easily intimidated but this warden was not dissimilar in age and size and I would expect the aggressive behaviour displayed by him could quite easily upset others," he told The Courier.
"Apparently, he feels he has a right to behave in an intimidating manner and he actually appeared to be deliberately provoking me before later pointing to his camera and stating that he had me on video. For these reasons, I felt I had to stand up to him."
Mr Stewart continued: "The driver remained in the vehicle and kept his window closed, despite my motion for him to lower his window. Meanwhile, the older warden on the passenger side quickly exited and confronted me from behind the vehicle,demanding to know if I had taken a photograph to which I replied 'yes' and pointed out that they had parked on private property.
"He denied any wrongdoing and demanded that I delete the photograph and, as I declined, said that he was going to call the police.
"I said 'OK' so he asked his colleague who had now vacated the vehicle 'Do you know the number for the police?' to which his colleague replied, 'Just call 101.'"
Mr Stewart said the warden did not actually speak to anyone on the phone and then argued with him over the photograph of the vehicle.
"I said I had taken a photograph of their vehicle's registration plate and this warden pointed to a camera on his jacket and said that he had recorded me on video," he added.
"While the warden that was driving the vehicle was mostly silent and looked somewhat embarrassed, the older warden was extremely arrogant, obnoxious and appeared to employ bullying tactics as a means of defence.
"With such an egotistic, self-righteous attitude, and sanctimonious right to flout the parking principles of others in the course of his own duty, it's parking wardens like this that provoke a response.
"And, to combat any inappropriate response, wardens like this are issued with a camera that they perceive to be some sort of weapon that only they have the right to use or, indeed, abuse."
A local authority spokesman said: "Perth and Kinross Council is looking into the incident and will take any action necessary as a result of the complaint."