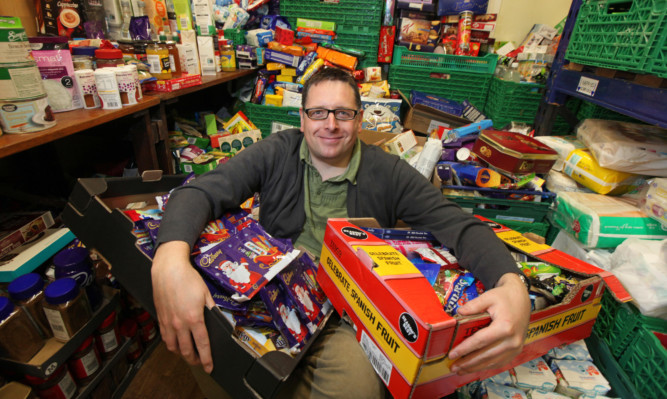 Tayside and Fife foodbanks are braced for a huge spike in demand this Christmas, as families increasingly struggle with the cost of the festive season.
The number of people using Trussell Trust foodbanks in December has increased by a staggering 125% in some parts of Courier Country over the past couple of years.
In Dundee, 765 people were referred to a foodbank in December last year compared to 531 during the same month in 2013 a rise of 44%.
Angus experienced an increase of 64%, with numbers going up from 167 in 2013 to 274 last year.
Fife had the biggest food poverty problem in December 2013 there were 556 referrals, going up to 1,250 last year, which was a 125% rise.
Meanwhile, Perth had the smallest increase of 16%, from 273 foodbank users in December 2013 to 318 in the same month the following year.
Trussell Trust network manager Ewan Gurr said that based on thesefigures, foodbanks have predicted an ever bigger influx of people struggling to get by this year.
The Courier visited Dundee's busiest foodbank on Constitution Street, where a store room was piled high withdonations of mince pies, boxes ofbiscuits and chocolate, as well aspresents for children and adults.
This was in addition to the regular supplies of emergency food andtoiletries.
Mr Gurr said: "Christmas is an extremely hard time of year for many people living in poverty.
"For some individuals on low incomes, it can mean spending Christmas alone, isolated by circumstances beyond their control and without anything to eat.
"Then there are families struggling on tight budgets where increased winter fuel bills can mean having to make a decision between being cold or going hungry. In Dundee, the store room isnormally organised but at Christmas things go absolutely mental.
"We are expecting even more people this year than in previous years."
The overall number of people inScotland referred to a Trussell Trust foodbank was 14,159 in December last year, including 5,093 children.
Only four local authority areas in the country have seen a decrease in foodbank demand over Christmas.
Martin Johnstone, Secretary of the Church & Society Council, was appointed chairman of an independent Food Poverty Working Group which will report to the Scottish Government early in the New Year.
He said: "In Scotland, we do not have a food shortage. What we have are more and more people without enough money to live on. At some point, and quickly, we need to be addressing the root causes of the ever escalatingnumbers of people being forced into food poverty."