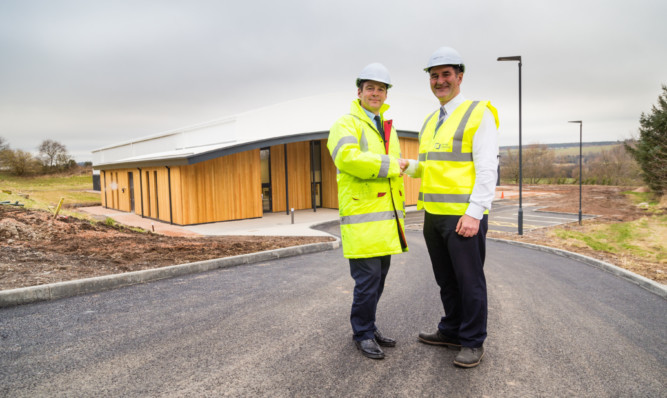 A £1.2 million dance studio has opened at an independent Perthshire school.
The building at Strathallan took eight months to construct and is part of a major £18.2 million investment programme.
It provides 150 sq m of studio space large enough for 30 pupils as well as a staff office, changing rooms and toilets.
Constructed by Thomas Johnstone Ltd, of Renfrew, the dance and drama studio features a curved roof, timber cladding and a mix of LED lights and natural light.
It will be used as a rehearsal and workshop space and will be a permanent home for students of ballet, Highland and contemporary dance. Audiovisual equipment will allow students to reflect on their learning.
Mary Robertson-Barnett, who is in charge of expressive arts at Strathallan, said: "To have a space dedicated to the performing arts is an enormous privilege. We can't wait for our students to make maximum use of the new space, and continue with our reputation as a home for excellence in performing arts."
The studio is joined to the Wilson Hall, a £1.4m multi-sports arena that is the size of three tennis or netball courts and has banked seating for 219 spectators.
Together they form Phases 2 and 3 of Strathallan's Centenary Project and will serve to cement the school as not only a top academic institution but also as one with state-of-the-art facilities.
Anthony Glasgow, bursar at Strathallan, added: "This is the latest stage of a major investment programme which has seen £18.2m invested in the school over the last 15 years.
"It provides facilities to develop drama and dance, which are increasingly popular activities at Strathallan, and means we are exceptionally well equipped to cater for the needs of our pupils going forward."
Strathallan was founded in 1913 by Harry Riley in Bridge of Allan.
In 1920 he moved the school to its current site in Forgandenny near Perth.
The campus includes a 19th Century country house, boarding houses with modern accommodation, senior houses with individual study bedrooms and common room and leisure facilities.
Outdoor facilities include seven rugby pitches, four cricket squares and 12 tennis courts.