 A police officer who toppled off her high heels as she fell out of a wedding venue has reached an out-of-court agreement over her claim for compensation of £40,000.
Detective Constable Shirley Carr sued the charitable trust which runs Portmoak Village Hall after the accident at a friend's marriage ceremony left her scarred for life.
Carr raised a claim for £40,000 damages at Perth Sheriff Court after her trip left her with a broken foot and a scar on her chin.
Lawyers for the village hall said it was the off-duty police officer's own fault because she was drunk, wearing high heels, went out the wrong door and failed to look where she was going.
A proof was due to be heard this week, but solicitor Richard Frenz told the court: "Settlement terms have been agreed and there is a joint motion to discharge the proof."
No further details of the agreement were revealed.
Carr had been a guest at the wedding in Kinnesswood on May 6 2012, and was leaving with her partner and others when she stumbled off a slab.
"They were leaving through an emergency exit door which had been open most of the day and at the evening reception. There was sundry conversation taking place," her court action stated.
"She was unaware of the drop between the edge of the slab and the surface of the lane. It was dark. There were no warning signs about the step or unexpected drop.
"The edge of the slab was not highlighted. The external light above the exit door was not in working order. She stumbled off the edge of the raised slab and lost her balance.
"She was unable to regain her balance and fell to the ground, injuring herself. As a result of the accident she sustained loss, injury and damage."
She admitted in court papers that she had downed two glasses of wine and three vodkas and had been wearing shoes with three and a half inch heels.
She broke her left cuboid bone in her foot, sprained her wrists and cut her chin and left temple. Both of her facial injuries left permanent scars.
But the village hall lodged a robust defence of the claim and stated that "the sum sued for is excessive" and that the accident was her own fault.
"All guests had been directed to exit the premises from the front door," the charitable trust's lawyer stated.
"She did not exit by the front door. After the accident she apologised for falling down because she had too much to drink."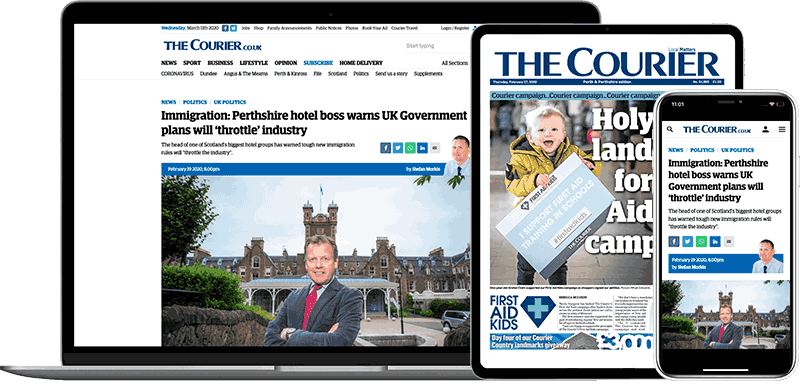 Help support quality local journalism … become a digital subscriber to The Courier
For as little as £5.99 a month you can access all of our content, including Premium articles.
Subscribe