 A 63-year-old man smuggled a taser into the UK from Saudi Arabia before pulling a gun on a man who annoyed him in the street.
James Clapperton pulled the realistic looking gun on Nabile Quinn because he was angry about the way he was larking around with friends outside his home.
Mr Quinn, who was unaware it was an air pistol, bravely wrestled the weapon from Clapperton and threw it away to the ground.
But a neighbour who was watching then picked the gun up and handed it back to Clapperton, who was also hiding a fully operational stun gun in his shed.
Fiscal depute Gavin Letford said: "Mr Quinn and two of his friends were passing the parking area outside the accused's home. The were pushing and shoving and having a carry on.
"They saw the accused driving in their direction at speed. In fear he was going to strike them with his vehicle they moved out of the way.
"He came to a halt and made directly for Mr Quinn, while shouting at him. They simply explained they were having a carry on and asked him to leave it at that.
"The altercation continued with the pair shouting at each other. The accused removed an item from his garden shed and made his way back into the street. He was seen to have a handgun.
"Mr Quinn panicked and made his way towards the accused and disarmed him of the gun. He threw the gun to the ground and kicked it away.
"A neighbour came out and picked up the gun and handed it back to the accused. Mr Quinn walked off. The neighbour contacted police and told them what he had seen."
Clapperton pointed the police to the gun cabinet in his shed where they found the powerful air pistol along with the illicit taser/stun gun he had brought back from a past job in Saudi Arabia.
"He admitted taking a BB gun into the street with the intention of scaring Mr Quinn. The taser was a stun gun with an additional irritant spray device attached to it."
Clapperton, Hermitage Drive, Perth, admitted having a stun gun at his home on 16 May. He also admitted having a gun with intent to cause Mr Quinn to believe violence would be visited upon him.
Solicitor Pauline Cullerton, defending, said her client had been out walking his puppy and arrived back in the cul-de-sac to find Mr Quinn, 30, and two other men.
"He left the puppy in his car and had gone to the shed to find something to scare the men away. He was worried they might have started on the dog.
"He accepts what he did was wrong. The stun gun was an item he brought back from Saudi Arabia where he worked for a considerable time. He was going to get rid of it but never got round to it."
Sheriff Lindsay Foulis told him: "It's pretty extreme behaviour. The fact it is an air pistol and was unloaded was neither here nor there. A person in Mr Quinn's position doesn't know that. All he sees is a firearm.
"It is substantial. There is nothing from looking at it to suggest it's not the real deal. Added to that there's a fully working stun gun in your possession."
The weapons were forfeited at Perth Sheriff Court and Clapperton was ordered to carry out 275 hours unpaid work.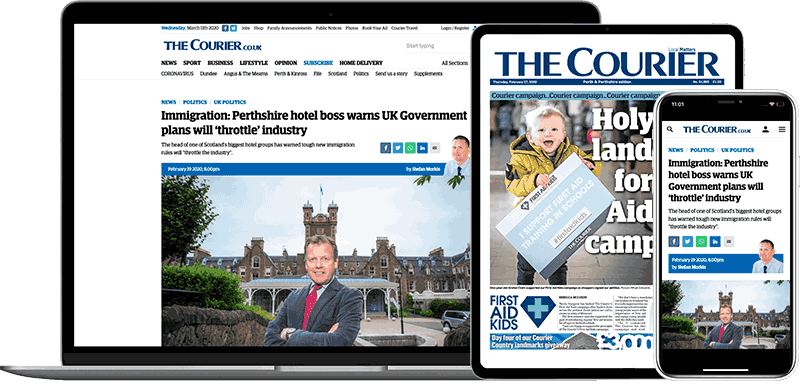 Help support quality local journalism … become a digital subscriber to The Courier
For as little as £5.99 a month you can access all of our content, including Premium articles.
Subscribe