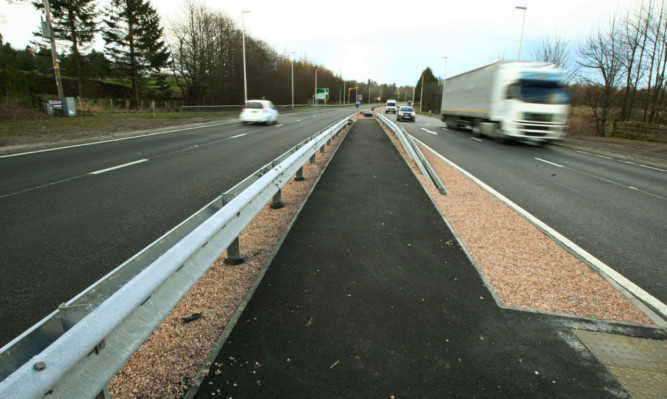 Crunch talks will be held this week to thrash out demands for a potentially life-saving crossing at a notorious A9 blackspot.
Thousands of people have signed a petition calling for a permanent footbridge at Gleneagles train station.
A temporary bridge was put in place for the Ryder Cup but has since been dismantled.
Residents are calling for a full-time replacement to be installed to help slash the stretch's high tally of serious accidents, including two recent fatalities.
Trunk roads authority Bear Scotland revealed talks with road users, including coach companies, will be held on Thursday to finally establish if a new bridge is needed.
A study will be drawn up based on feedback from the discussions and is likely to be published next month.
Auchterarder campaigner Ronnie Johnston, who launched the footbridge petition, has welcomed progress on the plan.
"We had been told that a decision could be made at the end of this month so although there has been a delay, it hasn't been a major hold-up," he said.
"It is an important case and there is a significant level of support for it so I'm glad they appear to be taking it seriously.
"We managed to raise more than 4,000 signatures for our petitions that's practically the equivalent of everyone in Auchterarder.
"There are a lot of people who want to see this bridge established sooner rather than later."
The Save the Bridge campaign calls on the Scottish Government and Diageo, owners of Gleneagles Hotel, to re-establish a bridge over the busy route.
Calls for extra safety were prompted by the death of 16-year-old Elli Williams in 2011.
Her mother Cara-Lee, of Auchterarder, has given her backing to the petition, posting online: "This is a good idea as it may save lives."
A 79-year-old man from Glasgow was also killed while walking on the road in July, last year.
A Bear Scotland spokeswoman said: "A meeting is scheduled between Bear Scotland and other organisations that are responsible for the delivery of public transport services in the Auchterarder area.
"This meeting is to gather additional information required to complete a study into pedestrian provision between Auchterarder and Gleneagles Railway Station."
She said: "The report is programmed for completion in April 2015, however, the actual date of completion will be dependent upon any actions arising from this meeting."
Residents said without a bridge people face either a quick dash across the 70mph road or a three-mile walk to reach the train station.
About £7.4 million was spent upgrading Gleneagles Rail Station for the Ryder Cup and completing a new link road for golf fans. The bridge was removed in October, despite calls for it to be kept in place.
Opponents described its removal as "pure lunacy" and an "insult to locals".
At the time, a spokeswoman for Transport Scotland said that all roads and structures would be routinely reviewed and insisted that safety remained a top priority.
In a parliamentary debate on the success of the Ryder Cup last year, Sports Minister Shona Robison revealed Transport Minister Keith Brown had given his commitment to investigate the prospect of a new footbridge. She added Transport Scotland "will engage with the community and the council on the matter".