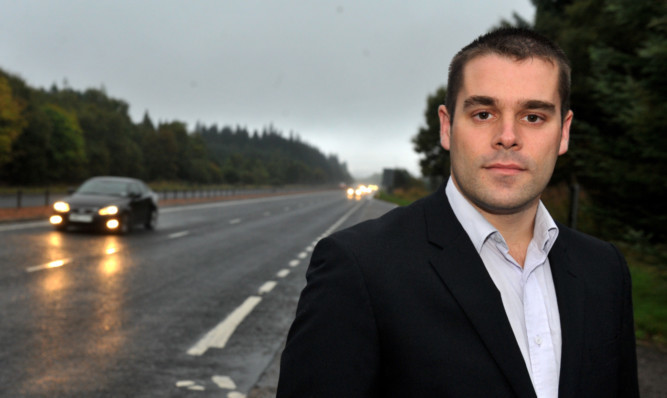 A fresh war of words has erupted over A9 average speed cameras after Scotland's transport minister Derek Mackay dismissed their staunchest critic as a "self-confessed speeder".
Campaigner Mike Burns challenged Transport Scotland over its latest published figures, which suggest the cameras had helped reduce the number of serious crashes in their first year.
Figures showed a drop of nearly 60% for serious and fatal accidents since the cameras went live along the 136-mile stretch in 2014.
However, Mr Burns accused the Scottish Government authority of massaging the statistics, pointing out that the number of fatalities on the Perth-Inverness section actually rose from four in 2013 to five during the cameras' first year.
Mr Mackay hit back, saying that there had been no fatal collisions anywhere on the A9 between July and December the first time this has happened since the road was upgraded in the 1970s.
In a letter to the Press and Journal, he added: "Mr Burns however is a self-confessed speeder and predicted carnage on the A9 as a result of the cameras, so I see why it is difficult for him to accept the first year has been a great start."
Mr Mackay was referring to an interview Mr Burns gave to BBC Radio Scotland.
He told presenter Stephen Jardine: "I drive the M8, I will sit with cruise control at 75, 78, I am getting passed by people doing at least 90 to 100."
When challenged by the host and told that he is breaking the law, Mr Burns replied: "You have a 10% variance in your speedo and you have also got the variance on the police cameras, so the point is I may be breaking the law, what about the dozens of drivers overtaking me at triple figures?"
He said Mr Mackay's comments "beggar belief" adding that the transport minister appeared to be "suffering from the same mental blocks he had with his recent Forth Bridge fiasco".
He said Transport Scotland was ignoring evidence from a trial 50mph speed limit for HGVs, introduced around the same time as the cameras.
"If the volume of fatal accidents remains the same afterwards, as has been the case, then the campaign was proved correct that speed was actually not the reason behind fatal accidents."
He added: "As someone with absolutely no speeding penalty points on my own licence and a driver who regularly covers over 1,000 miles a week, his futile attempts at suggesting a campaign with over 10,000 supporters are sounding off petty politics when their economic activity is being stifled, really does beggar belief."