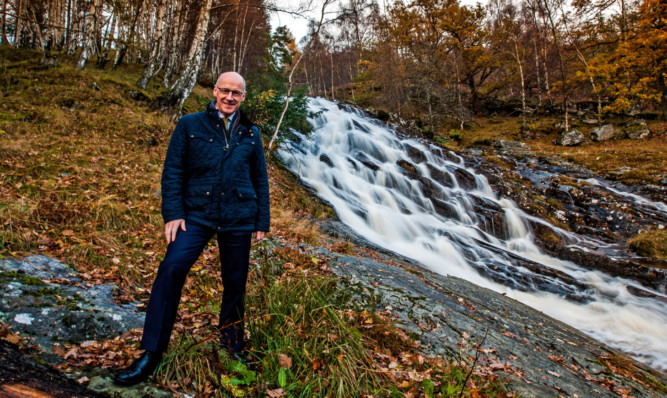 A Highland Perthshire hydro project has been hailed as the way ahead for the renewable energy sector.
The Allt Mor hydro scheme at Kinloch Rannoch, which has been officially opened by Perthshire North MSP John Swinney, not only produces energy but is destined to become a visitor attraction.
Constructed on the Allt Mor burn and located in a National Scenic Area, the scheme has been designed to provide both educational and architectural interest to visitors.
Fitted with a large viewing window, the powerhouse will allow the passing public to view the operation of a small hydro scheme.
Through an interactive display, visitors can learn about the development of hydro power in the Tummel valley, from the adjacent 18th Century mill house, through large-scale development of grid connected hydro, to the current developments under Feed-in Tariffs.
The project is also open to educational, academic and community organisations who can request a site visit including a tour of the powerhouse and water intake.
It can accommodate up to 20 people for tours and this can be accompanied by a lecture on small-scale hydro generation.
The scheme, and in particular the attention to the architecture and the impact it will have on the landscape, impressed Mr Swinney.
He felt that a great deal could be learned from the scheme and hoped that it would be at the vanguard of such small-scale schemes which, collectively, will help meet the country's renewable targets.
"This small hydro scheme represents one of the new generation of micro-hydro projects developed in Scotland as part of the Scottish Government's ambitious renewables targets," he said.
"The innovative design represents the best in contemporary design, community inclusion and protection for our landscape.
"Here in Scotland we have an endowment of renewable energy opportunities thanks to our exceptional topography.
"Micro-hydro schemes such as Allt Mor have a crucial role in harnessing Scotland's renewable energy."
Adrian Loening, of Mor Hydro Ltd, said: "This is one of many hydro schemes we are working on in Scotland but is one of the most interesting.
"We know that it will provide a long-term contribution to Scotland's renewable energy targets and provide an informative and educational facility which highlights the potential for clean energy production."