 Perth and Kinross Council has launched a strong defence of a controversial survey to gauge the views of pupils on such issues as sex habits and drug use.
The local authority has come under fire from some quarters for the Evidence2Success wellbeing project a pilot scheme in Perth and Kinross which may be extended to other areas of Scotland.
Many parents have reacted with anger to the survey, which asks children about such issues as their weight and whether they carry knives, as well as intimate questions on sex.
Last night a spokesman for Perth and Kinross Council rejected complaints levelled at the survey.
He said: "All parents of pupils in P5-S4 were sent a letter informing them of the Evidence2Success wellbeing survey at the beginning of January.
"The letter provided a summary of the whole project and highlighted that pupils would be asked to complete an online survey on a range of subjects, including relationships, drugs and alcohol, education and emotional health.
"In addition, S3 and S4 pupils would be asked questions on sexual behaviour and relationships and on anti-social behaviour. The letter stated that the children's survey responses would be confidential and that data compiled would be done so anonymously.
"It was stressed that the survey was voluntary and provided details of how parents could opt their child out of the survey."
The spokesman continued: "The completion rate was 89%, compared to a parent opt-out figure of 1% and a child opt-out figure of less than 1%.
"The aim of the project is to help us work with communities to significantly improve the health and wellbeing of children, young people and their families in Perth and Kinross. The approach involves members of the Perth and Kinross Community Planning Partnership (Perth and Kinross Council, Tayside Police, NHS Tayside and the third sector), working with the social research unit at Dartington to refine existing and develop new approaches to service provision.
"In order to design these services effectively, reliable evidence about the lives of local children and young people is required. We needed to build up a picture of the views and experiences of young people across our different communities.
"The survey questions are compiled from previously tried and tested research methodologies. The survey was scrutinised by an ethics committee of social policy experts before it was carried out, and no concerns were raised.
"It has also been independently reviewed by a leading academic, who found that the methodologies used were sound, and that proper Data Protection processes have been followed.
"The wellbeing and happiness of children and young people in Perth and Kinross is our paramount concern."
A spokesman for NHS Tayside said that they acknowledged that drugs, alcohol, violence and crime are "sensitive" issues for young people, but "accept" these are "very important issues".
However, Liz Smith, Conservative MSP for Mid Scotland and Fife, told The Courier she had been "inundated" with responses from parents and claimed some of the questions were "totally inappropriate" and "far too explicit".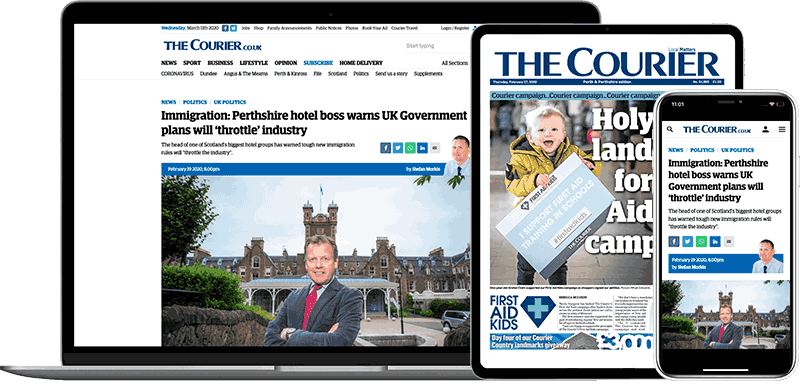 Help support quality local journalism … become a digital subscriber to The Courier
For as little as £5.99 a month you can access all of our content, including Premium articles.
Subscribe