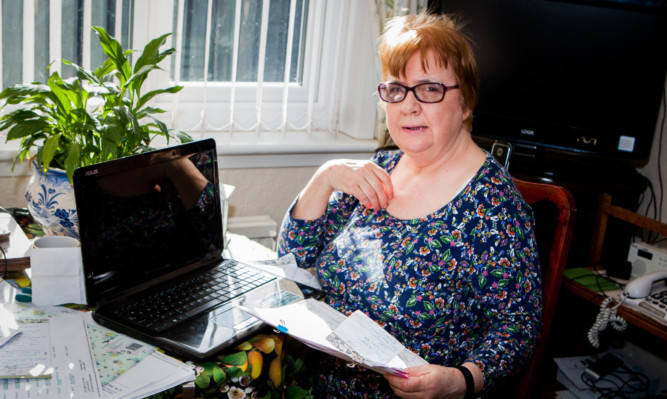 A Coupar Angus pensioner conned out of her daughter's wedding fund has revealed her anguish to prevent others being tricked in the same manner.
Sylvia Bentley, 66, was scammed by telephone conmen claiming to be removing dangerous viruses from her computer.
She was swindled out of around £8,000 in total by con artists who pretended they were from her TV provider.
They remotely gained access to Sylvia's computer and began emptying multiple bank accounts, including the £4,000 she had put aside to help pay for her daughter Hazel's wedding.
Heartbroken Sylvia, who is married to the Rev Dr Joseph Iain Bentley, explained: "They said they were from my TV provider and that they wanted to upgrade my box to a very special one. They said they would give me £200 because of the trouble I've had with it.
"They said, 'we are putting this into your bank account now' and when I looked into my bank account it said £1200. I said you've made a mistake and given me too much.
"He said, 'oh goodness me, we will be sacked' and asked me to pay it back to him."
The crook then began to access her computer.
Sylvia continued: "He said that I had so many viruses on my computer and he could help me.
"It went on to a false screen and kept flashing up my bank account. He said I couldn't switch my computer off otherwise I would damage it.
"He was talking in an Indian accent but the police think he was probably in the UK from the length of time he was on the phone. He started off on the landline and then moved to my mobile.
"Then my daughter rang me and said, 'Mum, put the phone down, you are being scammed. Money is disappearing off your bank account,' as she has all the details in case of emergencies.
"As well as the money I had saved for my daughter's wedding I had an overdraft of £2,500 that I never really used and money in credit and the whole lot was taken out.
"The bank has been ever so helpful but I've got to wait two weeks to see whether they give me any money back."
A Police Scotland spokesman said: "We would advise anyone not to give any bank details over the phone or to transfer money over the phone.
"It's important that people don't give out any personal information, remain alert and report any issues that concern them to ourselves."