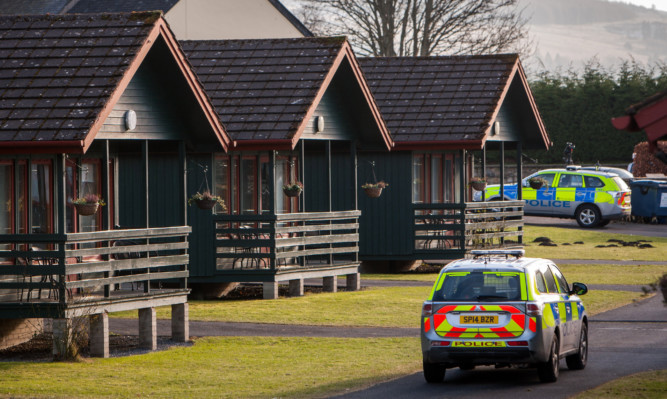 A suicidal former publican built a nail bomb in a Perthshire holiday chalet to send a chilling message to London social workers, a court has heard.
Mark Crockett packed an aftershave tin with fireworks, sugar and screws before taking his late mother's prescription drugs and leaving a note saying: "I am dead, please do not enter."
However, concerned staff alerted paramedics, who found the device sparking a huge police and army operation that saw the Logierait Pine Lodges near Pitlochry evacuated.
The High Court in Aberdeen was told the device had been "poorly mixed" and may only have "partly functioned".
Police later found letters in Crockett's Falkirk home filled with threats towards family members and social workers.
The 53-year-old later told officers: "It's a shame I did not get to those b******s. It's not over yet."
Depute advocate Alyson Forbes told the court Crockett had checked into the chalet to get "respite" from an ongoing dispute involving a relative in England.
Three days later staff found Crockett under the influence of drugs or alcohol and contacted paramedics, Ms Forbes said. They found packets of morphine sulphate tablets on the living-room table.
A pinned-up letter read: "I am dead, please do not enter. There is a nail bomb in the bag. This is for London Borough Barnet social services. Change your ways."
Army bomb disposal experts made the device safe. It contained more than 50 screws, had a fuse from a firework, but the contents were "poorly mixed".
Defence advocate Tony Lenehan said: "Mr Crockett has no history of offending. When one looks back in his life, he held responsible positions.
"He was a hospitality manager for the Royal Bank of Scotland at their headquarters and was a publican."
Mr Lenehan said Crockett's family problems had brought him to "a point of emotional collapse", adding: "He went there with the intention of taking his life with his late mother's morphine tablets.
"The metal cylinder is an aftershave tin. I think it would be fair to describe its construction as somewhat inept."
Crockett, a prisoner at Perth, admitted making and possessing an improvised explosive device with intent to endanger life or cause serious injury to property at Lyon Lodge, Logierait Pine Cottages, Pitlochry, between February 2 and February 4. He also admitted possessing morphine, codeine, cannabis, cannabis resin and Tramadol between February 2 and February 5.
Deferring sentence until January 7 at the High Court in Livingston, Lord Armstrong told Crockett: "You appear before me on what is a significantly grave charge. I must consider the possibility of a custodial sentence."