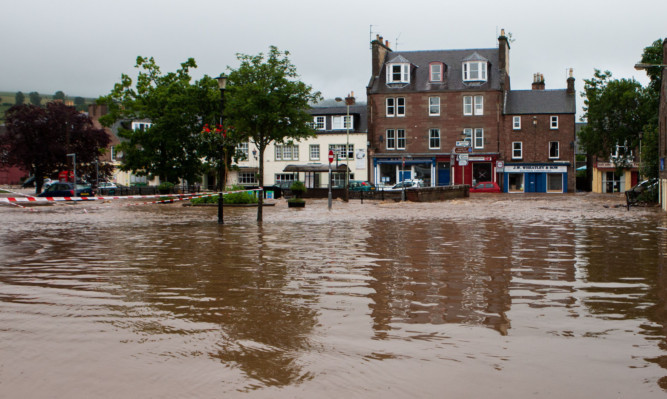 The Alyth flood has reawakened memories of a similar deluge that devastated the town nearly 60 years ago.
As Alyth slowly recovers from the flash flood that is thought to have caused millions of pounds worth of damage, details have emerged of a similar downpour that hit the area in 1956.
Courier reports from that year show a tree jammed against a wooden footbridge over the Alyth Burn contributed to a terrible flood in the town.
Earlier this month Alyth homes and businesses were damaged by high waters after the burn that runs through the centre burst its banks.
Nearly 60 years ago water from the swollen burn, which was already lapping the bridge parapets, poured down to the Market Square, forming a miniature lake up to three feet deep in places.
Water raced across the road bridge to Commercial Street, while three houses were flooded to a depth of nearly two feet.
One tenant, Frank Shaw, was forced into an impromptu rescue mission when his polio blighted 14-year-old daughter, Helen, was trapped alone in their house.
Knee deep in water, he plunged down the lane and called Helen to the window for fear she would be swamped if she opened the door.
She then climbed out into her father's arms and was carried to safety in a friend's house.
However, the worst of the 1956 flooding was past within an hour as the jammed tree freed itself when the burn level dropped.
By noon only a muddy Square and roadways gave evidence of an eventful morning.
However, in equally similar circumstances a golf tournament at St. Andrews was also affected by the downpour that swept across east Scotland, much like this year's Open Championship.
In 1956 a flooded New Course at St. Andrews caused the postponement of the Eden Tournament.
In the recent Alyth floods hundreds of homes were left without power while dozens of properties had to be evacuated.
More than 750 homes in in the area were cut off at the peak of the problems. It is thought it may take several months for some businesses and homes to be restored.