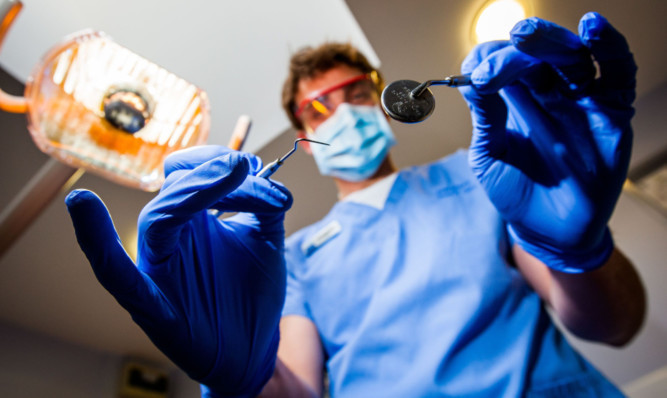 A Perthshire dentist has warned about a rise in illegal teeth whitening services being offered across the region.
People looking to get a bargain-price Hollywood smile are putting themselves at risk, it was claimed.
The caution comes after one young Coupar Angus woman was left in pain following botched bleaching treatment from a local beauty salon.
Staff at the Blairgowrie Dental Care said they have been approached by several patients in recent weeks, complaining of whitening work they had carried out by people with no dental training.
Dentist Neil Rutherford said: "Tooth whitening is, by law, a dental procedure which should only be carried out by a professional who is regulated by the General Dental Council.
"Anyone else that is offering tooth whitening regardless of any claims made by the whitening companies is breaking the law and will eventually be prosecuted and fined."
He said before any treatment can take place, a dentist needs to check for any underlying dental problems which could react badly with the bleaching chemicals.
Some companies offer online training sessions to teach the public how to use products to whiten patients' teeth.
A recent investigation by the BBC's Watchdog programme found that some training courses lasted just a few hours and could be done via webcam. The firms offered kits including bleaching chemicals which are highly toxic and banned by EU regulations.
A full-time mum from Coupar Angus, who asked not to be named, told The Courier that she saw the service being advertised on Facebook.
"I wanted to get rid of dark spots on my teeth and I wanted them whiter for the summer," she said.
"I went to the beauty salon, asked for tooth bleaching and was given some stuff to put on my teeth. No one checked it."
The 27-year-old said the treatment lasted about half an hour.
"It tingled at the time, but when it was over, my teeth felt very sore and sensitive," she went on.
"I said this to them at the time, but was told that it was very common and it would wear off.
"When I got home and checked in the mirror, I saw my teeth were patchy white and my gums were beefy and red. My whole mouth felt very sore, it was difficult to eat and drink for weeks.
"I have since been back to my dentist and it turned out I had infected gums and needed a clean and polish and some fillings, so I shouldn't have had bleaching in the first place."